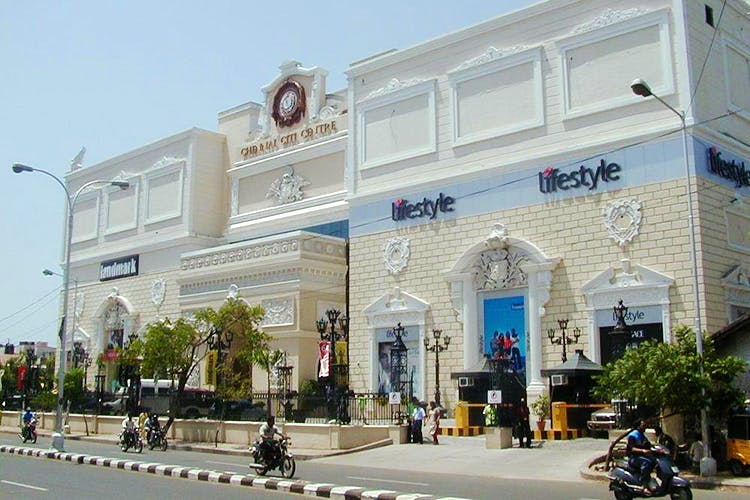 We Found 5 Reasons To Check Out This Old RK Salai Mall, Close To Marina Beach, Again!
We know that there are newer malls in the city to check out like Phoenix and now Palladium, but the old ones like Spencer's Plaza and Citi Centre still have reasons to come back to. Here are five reasons, why Citi Centre is worth checking out today.
Inox
While not as popular as Sathyam and PVR, Inox is just as good a theater as any and is a great place to watch movies that are usually sold out at bigger theaters. There's plenty of food options for moviegoers but we recommend sticking to popcorn (steamed corn cups are good too!) as stuff like nachos and ice creams aren't always fresh. Ticket prices are under INR 200 and even with added parking you're still going to be paying less than if you went to Sathyam or any other theater. Budget movie experience, check.
Rooftop Dining
The view is quite possibly one of the best reasons to come to Citi Centre. The evenings are especially pleasant as it's not too hot to sit outside (you'll probably melt in the afternoon). The food court itself has the usual fast food chains like KFC and McDonald's, along with Indian ones like Combo Express, which specialise in the usual parota kind of fare. We recommend coming here if you want to get a coffee with someone, or if you want to just read a book, though do note that on weekends, the rooftop can get crowded.
Netz Cricket
Cricket batting nets atop a mall with a view of the city! Yep, there's automated bowling machines too, both of which you rent out on a per-over basis. Located just behind the open air dining area, cricket lovers can enjoy the evening sea breeze as they practice their shots. Three overs starts at INR 100, which might seem steep if you plan on coming regularly. So if you are, they've got a membership option too which works out to be a lot cheaper. It's open from 10am to 8pm everyday and you're ideally going to find it crowded post 6pm.
Kozzmo Goli Soda
Remember drinking goli soda as a kid from that age-old bottle that never changed. Well reminisce no more, Kozzmo Goli Soda has its Goli Soda sold at The Biryani Company, a biryani only restaurant in the rooftop dining area. Kozzmo Goli Soda comes in flavours like lemon, orange and grape, and even a nimbu masala, for just INR 50. Sold at only a few eateries in the city, we recommend getting yourself a nice chilled bottle whenever you stop by Citi Centre.
Stress Free Shopping At The Citi Centre Lifestyle
Most of us hate going to malls on weekends because it's crowded, it's hard to get around, queues are always long and it's next to impossible to find what you're looking for at a good price. If you're most of us, we recommend shopping at the Lifestyle in Citi Centre. There are three floors with everything from furniture to kids wear, with plenty of offers and discounts to clear their fairly large inventory. We were super happy because we found a really cool pair of Fila kicks for INR 2,500! So if shopping is what's on your mind, go here!
Comments