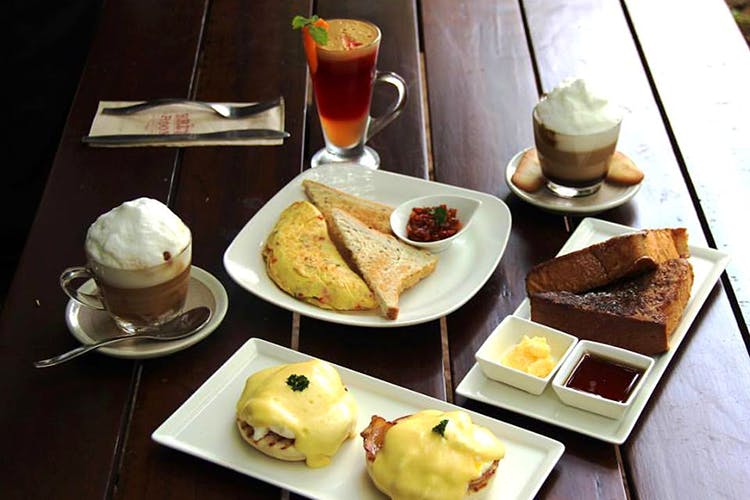 Wake Up! Here's LBB's Guide To Popular Continental Breakfast Spots In Chennai
Craving a staple breakfast of toast, eggs and a hot beverage to help you kick start your day? Check out these places for the satisfying experience of a great continental brekkie in a lovely setting.
Sandy's Chocolate Laboratory
Here's a sweet way to start your day! Go all out with Sandy's breakfast because once you get a taste of this, you're really not going to be able to go anywhere else. And added to their awesome breakfast spread are favourites like French Toast (with Nutella) and Eggs Benedict (with ham). If you swing by their Teynampet branch, your furry friend can tag along with you. We ruff this!
The Brew Room
What makes The Brew Room really special is that they've got two types of breakfasts – Executive Breakfast (which is similar to the Continental portions) and the All-Day Breakfast (which will have your plate overflowing with goodness) — so you can have either one when you get there. Sit inside or out in the lovely garden (at their Savera Hotel outlet) while you work your way through one of their speciality coffees (we'd recommend the Aeropress) and a satisfying breakfast to tide you over through the roughest of days.
Amethyst Café
Even outside of the city of Chennai, food lovers know about Amethyst and it's because of the ambience, the food, the style and just the experience itself. Their menu is filled with Continental treats, but their breakfasts are definitely worth waking up for. Sit indoors to stay out of the heat or take a seat facing their gorgeous gardens while you feast on your choice of vegetarian or non-vegetarian breakfast. Maybe with a side of Choco-Chip Waffles?
Pantry d'or
You've got a choice here – vegetarian or non-vegetarian – but both include a choice of coffee or tea, juice, toast, baked beans and the works! And for the non-vegetarian breakfast, you get to have your eggs however you like them. Bright and airy, the restaurant is absolutely welcoming for the breakfast crowd and their chairs are perfect to sink in for a few hours while you enjoy your plate of croissants and cinnamon rolls!
Chamiers Café
Chamiers, unlike the others, have really kept their Continental breakfast simple and to the point – featuring toasted bread with butter and jam, juice of the day, tea or coffee and a pastry of your choice. The café itself has a classic feel with floral wallpaper, thin curtains and cane chairs that might just remind you of home.
Waffles Thru The Day
This casual dining restaurant (with two locations in Nungambakkam and Adyar) specialises in waffles. Obviously. So if you want to get your morning waffle fix, look no further. Waffles of all kind with combinations that will make your head explode! They even have savoury waffles, piled with chicken and delicious sauces if that's what you're looking for. But for brekkie, we'd recommend the Waffles & Eggs which comes with a solid portion of sausages and mushrooms. There's also sweet blueberry pancakes and savoury pancakes with eggs. Yum!
Pumpkin Tales
If you're looking for a post-workout brekkie to energise you for the rest of your busy day, Pumpkin Tales is boss. Their Morning Glory Bowls with a multitude of veggies such as mushrooms, broccoli, zucchini, avocado, and cherry tomatoes are really a blessing. They've also got yum avocado & mushroom toast.
Kalo's
This little eatery in Besant Nagar does all-things-breakfast. Whether you're sitting down to eat or packing up an on-the-go brekkie, choose from sandwiches, crepes, pancakes, smoothie bowls, waffles, and granola bars.
The English Tearoom
This is the breakfast of the champions, they've got the Full English Breakfast (sausage, eggs, bacon, toasted bread, sauteed mushrooms, grilled tomatoes, baked beans, orange juice, tea/coffee) and yum peanut butter jelly sandwiches. Eggetarians, feast on their warm, delish eggs which will leave you hypnotised.
Did we miss something? Click here to recommend.

Comments