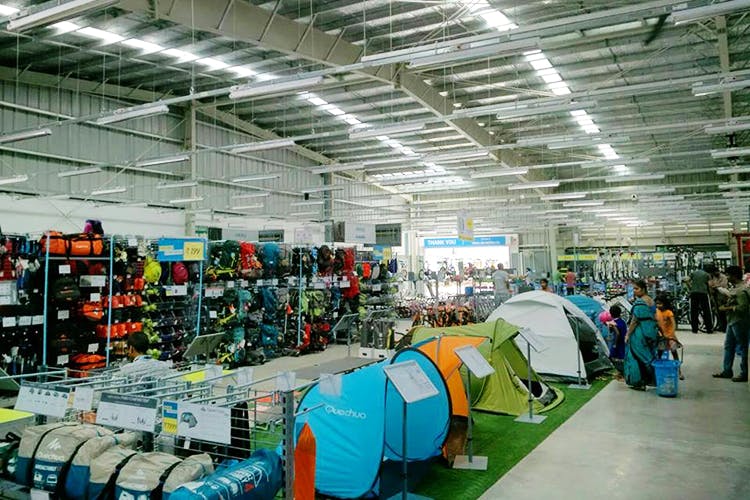 Scuba Diving To Mountaineering: Here's Why Decathlon Holds The Medal For The Best Sports Store
Shortcut
You think sports store and Decathlon is the first thing that comes to your mind. This French sporting superstore is one place you can blindly head to for all your sports and adventure activity gears. Here's our take on all the little things that make Decathlon awesome!
What Makes It Awesome
With four outlets in the city, Decathlon continues to be one of the best things to have happened to us. It's unmatched variety and sheer size means that you can find pretty much anything from scuba diving and tennis to horse riding and golf gear, all under one roof. All their stock is of quality branded gear like Quechua, Asics, and more, so you know that you're safe from knockoffs.
We went to the Decathlon in Teynampet and found affordable, good quality compression wears for men and women, which is so hard to find in India. We also loved the tees and sports bras here along with flip-flops which were priced at INR 199. The large-format of the store comes with the added bonus of reduced prices on its goods as most of its stock is bought in bulk. This automatically pushes the store up on the list of best sports stores. On a good day, especially when there's a sale going on, you can even find a good pair of sneakers for below INR 1,000 or a lovely swimsuit for as low as INR 450. Take that, overpriced labels!
The staff is another thing we really love about Decathlon. With most of them being athletes themselves, they can tell you the in and out of every product that's on offer. Not just for shopping, Decathlon is also popular for offering a fun space to try out their equipment like cycles, playing basketball or catch. You can head to the Poonamallee Decathlon store to get a taste of that.