Get Cute And Artsy Décor At This Store In Thiruvanmiyur For As Low As INR 100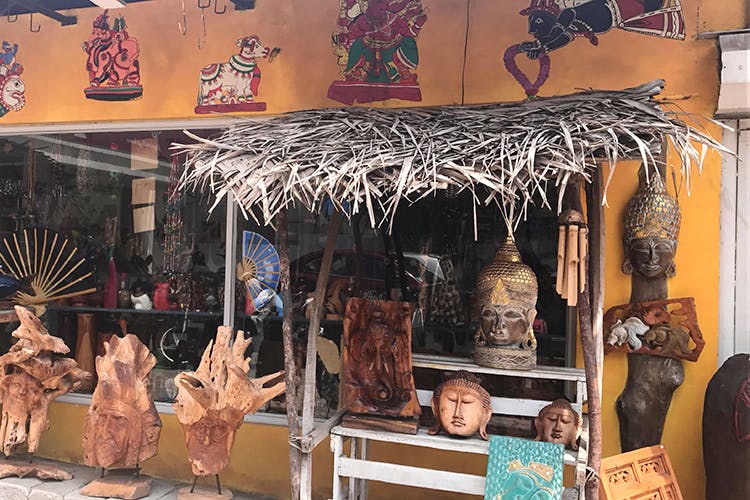 Shortcut
Starting at INR 100, this Thiruvanmiyur store is the place for you, if you are a sucker for unique art!
What Makes It Awesome
From African-origin masks, Sri Lankan artefacts and tribal wall hangings to door decorations and even frog decor pieces, there are all sorts of crazy you will find at D'Hut! What looks like a tiny shop in Thiruvanmiyur, actually extends into a two-storey building filled with bewitching home decors. We had to begin with their cute Buddha statues. Available in various colours like orange, red, green and blue, these bronze Buddhas instantly give out peaceful vibes and are priced at INR 300 onwards.
At D'Hut, you will also find dream catchers starting at just INR 100. A lot of the dream catchers here have a tribal essence to them and come in black as well as bright colours like pink and blue. Oh, and then there are thousands of bronze and wooden bells here! The bells starting at INR 200 per set, are rustic and available in plenty of varieties. They have fridge magnets and keychains for less than INR 250. You can also find golden palace-style mirrors and other artefacts for your home.
D'Hut doesn't stop at simple and artistic pieces for your house. They also have quite a few quirky goodies. The surf board-style clocks with Jack Daniel, Bob Marley and Monster prints are quite a sight. The boat-shaped shelves make for a perfect corner piece and start at INR 1200. We were very much intrigued by their African masks and Sri Lankan face wall-hangings. The really tiny ones are available for around INR 50, but most of the big masks start at INR 1,000. For the details they come with, they are worth it!

Pro-Tip
Though most prices are tagged on the products, don't forget to get yourself a good bargain. We managed to get some pretty products for a discount of almost INR 250!