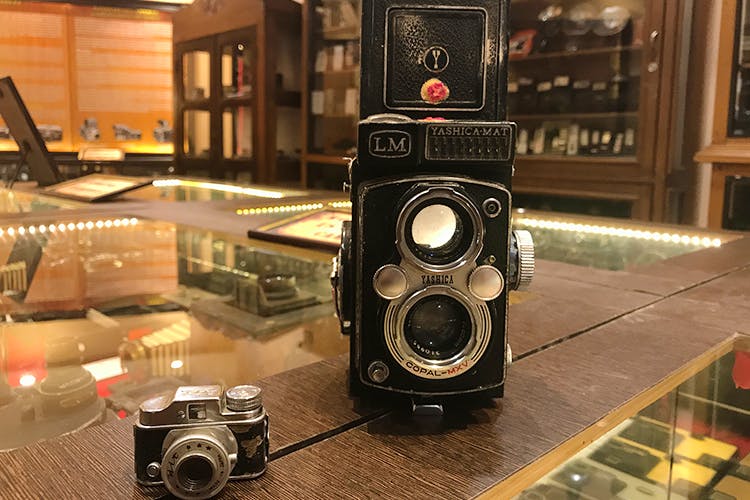 Wow! This Camera Museum In ECR Houses Photos Of Old Madras & Vintage Cameras Too
Shortcut
A must-visit, Dr Arun's Photography and Vintage Camera Museum exhibits more than 1,600 cameras from around the world and is a visual treat for photography enthusiasts. And entry is at just INR 100.
What Makes It Awesome
Started by Dr AV Arun (a dentist and professor of orthodontics) in 2013, the museum has been collecting vintage cameras from 1997. One step into the museum and we are transported to another time and world. Nostalgia hits you hard with the very first photograph wall, showcasing Chennai from the 60s and 70s. Shanti Colony, Mylapore and Buhari Hotel are almost unrecognisable! You don't want to miss their main attraction — the museum's camera collection ranges from the Meagher 1870 film camera, their oldest model to the modern digital cameras of today.
After being shown a brief film about the history of photography, we step into the museum. Starting from Box Cameras from 1880 to 1940 and portable folding cameras from the 1900s, the shelves showcase age-old models like the Kodak Brownie, AGFA box, the Bessa and Coronet Super flash, to name a few. There's also rare miniature cameras, which volunteers at the museum will let you hold so that you can look through these unbelievably small lenses. Don't forget to ask them for the twin lens and miniature models like the Beica Mini and Arrow Mini.
You can even find World War II US Air Force cameras on exhibit here. But, the most interesting model and the one that took me by surprise was definitely the Zenit Fotosniper from the 1960s. This sniper type camera is said to have been used in Russia during the war and is truly one of a kind! There are also different Polaroid models like the classy white Polaroid Swinger 20, known to be one of the first inexpensive instant cameras.
After witnessing many models with a dual lens, viewfinder cameras and even video cameras from the past, the finishing line of the museum is the best part yet. The child in you is sure to jump out, once you spot an eight-feet long camera and understand the mechanism behind it. Don't forget to check it out, as namma Chennai is said to be the only other lucky place to boast of this model, apart from Australia. Also, not just 8MM movie cameras, but the museum also has the Mitchell 33mm Hollywood camera from the 1940s among other towering studio cameras.
So the next time you're visiting East Coast Road, we suggest that you drop by this camera paradise. You could also donate cameras and add on to the museum's awesome collection!
Comments