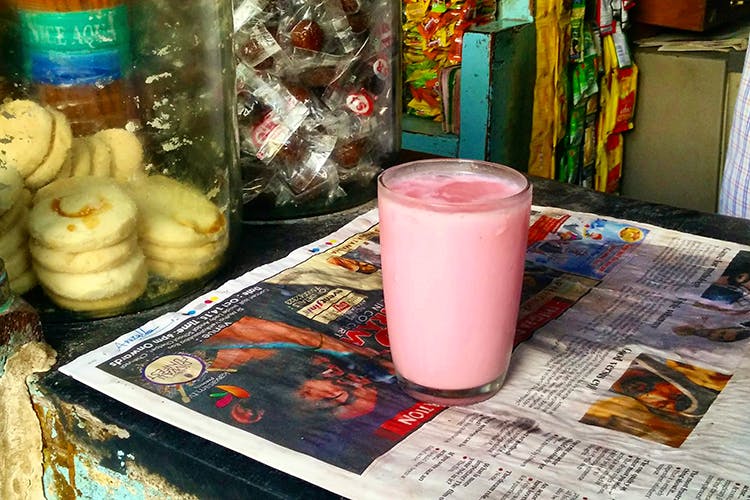 Rose Milk Or Jigarthanda? 10 Drinks To Quench Your Thirst
Stay cool all-day with our top 10 drinks to quench your thirst. The list features notable drinks from places across Chennai; some are stalls, some restaurants and some are served by legendary Chennaites. Read more about all of it below.
Rose Milk At Kalathi Newsmart
The best rose milk in town is at Kalathi Newsmart in Mylapore. Fresh milk and rose syrup with a little bit of ice, is all that they use and somehow make it better than we've tried at home. So get yourself a nice chilled glass for INR 15.
Paneer Soda At Lakshmi Cool Bar Mani Kadai
The paneer being referred to isn't of the dairy variety, it means "rose water" in Tamil, very similar to the rose milk above. Lakshmi Cool Bar Mani Kadai is in Mylapore too and only a short walk away from Kalathi, so do club this one along on your trip. The soda and rose essence mix is super refreshing if you're a fan of carbonated drinks.
Jigarthanda At Murugan Idli
This Madurai drink is our favourite pick on this list. Made of milk, almonds, ice cream, and a few other accouterments, Jigarthanda is a thick and filling drink served to you chilled. There are only two places you can get Jigarthanda, one is at Murugan Idli and the other is at a roadside shop outside the Pothy's in T Nagar, with the latter being the tastiest. Having said that, INR 30 for a tall glass at Murugan is always a good deal.
Tender Coconut Juice At Bay Fresh
Bay Fresh is a tiny stall adjacent to the super popular burger joint, Pupil on Bessy Beach and they serve tender coconut juices. It's simply that, tender coconut and fruit juice, delightfully refreshing and a great way to stay hydrated. Do note that they come in 500ml glasses so be prepared! (Get them for INR 90). If you want Tender Coconut Juice and don't want to travel to Bessy, check out Amudham Juice Shop in Kodambakkam, it's cheaper and just as tasty.
Buttermilk From Mor Thatha
This entry isn't an actual stall or shop, but an elderly gentleman called Mr. Ramajayam, nicknamed Mor Thatha, who pedals his cycle along the Thiruvanmaiyur Beach in the evenings, selling his signature buttermilk. He's been doing so for 15 years and his buttermilk is the healthiest drink on this list by far and just as tasty as the others. To know more click here.
Lime Mint Cooler At Fruit Shop
Fruit Shop on Greams Road is one of Chennai's oldest juice shops and a mention about their signature Lime Mint Cooler on this list had to be done. The minty taste coupled with the citrus is a great pick me up if you're feeling low energy. For more on Fruit Shop and what else is awesome there, click here.
Milkshakes At Keventers
"The Original Milkshake" set foot in Chennai a few months ago on Khader Nawaz Khan Road and the queues are still pretty long. Best go there during off-peak hours, especially if you're passing by during midday. We love their glass bottles and their yummy milkshakes (although it could be creamier). We loved the Chocolate Hazelnut!
Goli Soda At Thambi Vilas
Goli Soda in actual goli bottles is just one of the things you can get at this Chettinad restaurant in T-Nagar. A must-have for anyone who remembers drinking it while growing up, especially 90's kids who've endured hot summers. Thambi Vilas is a restaurant based on bringing that feeling back and to know more on the other nostalgia-inducing stuff on their menu click here.
Lassi At Bombay Lassi
A tiny shop in Triplicane, Bombay Lassi is known for their lassis. A regular glass cost INR 30 and their special lassi, adds basundi and sugar to make it extra special, for just INR 50. This place is a must visit if you're passing by Ellis Road, near Devi Theatre. For more info click here.
Mango Juice At Juice World
RA Puram's pride and glory, arguably the best juice stall in Chennai, Juice World serves amazing fresh fruit juices. This being mango season, we can't speak highly enough of their mango juice; it's rich, thick and hits the spot every time. Stay tuned to LBB to read more about this iconic juice shop.
Comments