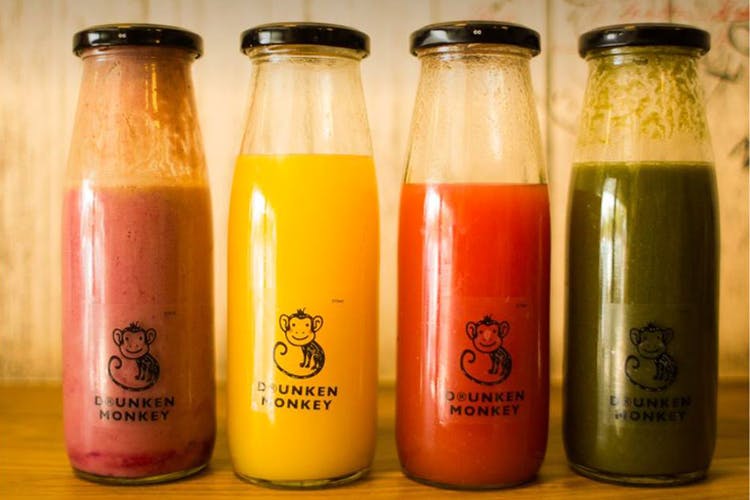 This Juice Bar Does A Whopping 130 Kinds Of Juices And Milk Shakes!
Shortcut
Popular smoothie and juice bar chain from Hyderabad, Drunken Monkey, makes 130 kinds of juices and milkshakes.
What Makes It Awesome
Started in Hyderabad, Drunken Monkey is a juice bar chain with a dizzying variety of juices and shakes. Their menu is split into sections with beverages for different purposes. Thick decadent milkshakes in their Indulgence section, light and healthy smoothies and fresh fruit juices in their fresh fruit section, nutty juices in their Something Special section. They also do meal replacement smoothies for when you're looking for quick calories, detox smoothies and hangover cures for when you've been binging too much. Plus, nine kinds of cold coffee for caffeine addicts and protein shakes for the fitness conscious.
More importantly, they pride themselves on using no sugar, no preservatives, no ice (just frozen ingredients), no artificial flavouring or syrups, just fresh fruit (and dairy for milkshakes). Our favourites were the Nut Case milkshake which is a blend of figs, almonds and ice cream, another called the Flash which is a mix of spinach and avocado, blended with apple and ice cream. We also liked their muesli meal replacement shake made of muesli, chikoo, cashews, almonds and a little bit of pineapple. It tastes great and is a quick way to put in some tasty calories when you're in a hurry and can't sit for a meal. Price wise they're about the same as Thickshake Factory and other such joints as most beverages are between INR 100 to 200.