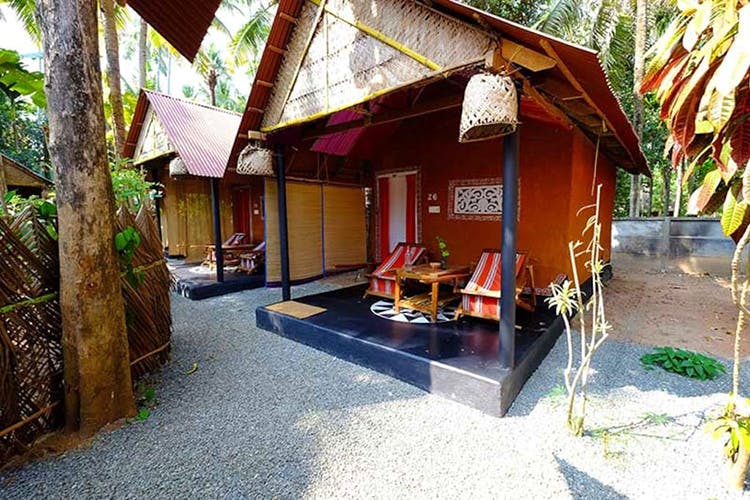 Stay At This Cute Mud House In Varkala Starting At INR 1,000!
Shortcut
This eco resort in Varkala, Kerala is the perfect way to experience all the treasures that Kerala has to offer on a shoe string budget.
What Makes It Awesome
The Puccini Lala eco-resort in Varkala is right by the beach and is part homestay and part showcase of local tradition. The dwellings that you stay at are actual mud houses, made from locally sourced organic and inorganic matter, like mud, bricks, bamboo, herbs, cow dung and even plastic bottles!
Don't worry, the finished product is a sturdy, pleasant smelling structure that stays surprisingly cool during the summer. Each mud cottage has a bedroom and attached bathroom, with basic amenities like plug points, fans etc. Do note that ACs aren't available, but sleeping at night won't be an issue in your mud cottage because of how cool it keeps you. The cottages are cute and functional, with generous doses of colour in their choice of bed linen, curtains, and light fixtures, and add to a feeling of homeliness.
The homestay part of the resort is a prelude to the other services offered at the resort. There's plenty of things for patrons to check out, like traditional ayurvedic massages (Panchakarma, etc), yoga classes by trained yoga instructors, in-house art exhibitions and even cooking classes where you can learn to cook local cuisine! Rates for these services are available upon request. If the resort isn't enough fun, there's the Varkala beach, a short 15 minute walk away. Even better, there's a cliff just five minutes away from the resort by walk where you can get a panoramic view of the coast that overlooks the Varkala beach!
Prices start at approximately INR 1,000 per person per night (at the time of this publication), and for that reason alone we think it's a great choice for budget travelers looking to go off the beaten path and really experience a new land.
More Information
Puccini Lala Eco & Wellness Resort
Comments