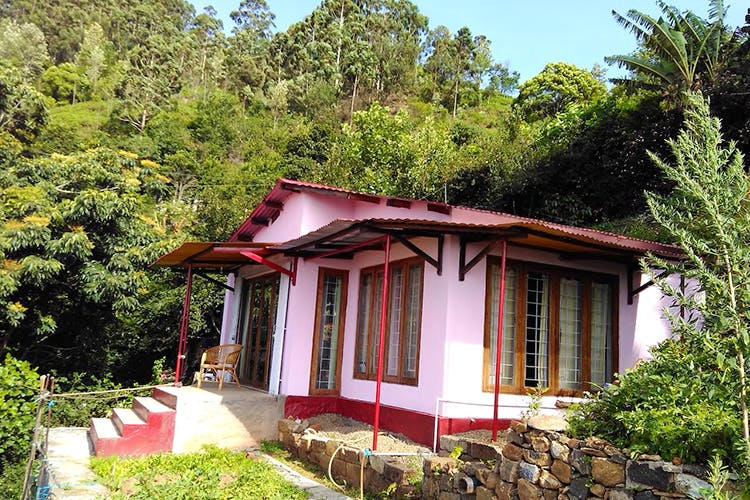 This Small Airbnb Farmhouse In Kodaikanal Is Winning For Its View
Shortcut
Become King or Queen of the hill as you take a trip to this charming farmhouse hidden away on a hill next to Kodaikanal.
What Makes It Awesome
Situated 16km before Kodaikanal Town, the property lies on the Palani-to-Kodaikanal road tucked away in a tiny lane. The farmhouse was made to be private and isolated, hence you won't find very many houses around it. That and also because the farmhouse is in the middle of a two-acre organic farm. What's really interesting about it is that it's located on a hill, so on clear days, you can have a nearly panoramic, 200km view of the plains below. The house itself while Spartan in terms of amenities, is perfect for enjoying the view.
There's plenty of windows, along with two beautiful little sit out with cane chairs. The house itself is quite small with a small hall, kitchenette, one bedroom and one bathroom, making it great for couples and small groups. They've also got a solar power system setup that fuels all electrical appliances in the house, so even during the occasional power outage you'll still have electricity. The couple that started the farmhouse run an organic and health food store, hence the farm surrounding the house. There's coffee growing around plum trees, plenty of citruses, hill bananas and even avocado trees! All open for you to pick and eat. Speaking of fruit there's also guavas, passion fruit, peaches and pears for you to find too!
Trekking wise, there's a natural stream that supplies fresh clean drinkable mountain water that you can trek up to. To assist your stay, the owners have employed a caretaker couple to attend to daily tasks. Meals can be prepared by the cook and you can even have them buy groceries and tell them what to make, provided its Indian cuisine. For an extra cost of INR 250, you can even have your own personal campfire set up! There's plenty of exploring and seeing to do around the farmhouse and the caretakers are more than happy to assist you with trails and routes to take. If that's not enough, there's Kodai itself to explore.
All of this awesomeness comes at just INR 2,000 per night for two people. How cool is that?.