This Beautiful Beach Villa In ECR, With A Pool, Is Straight Out Of MTV Cribs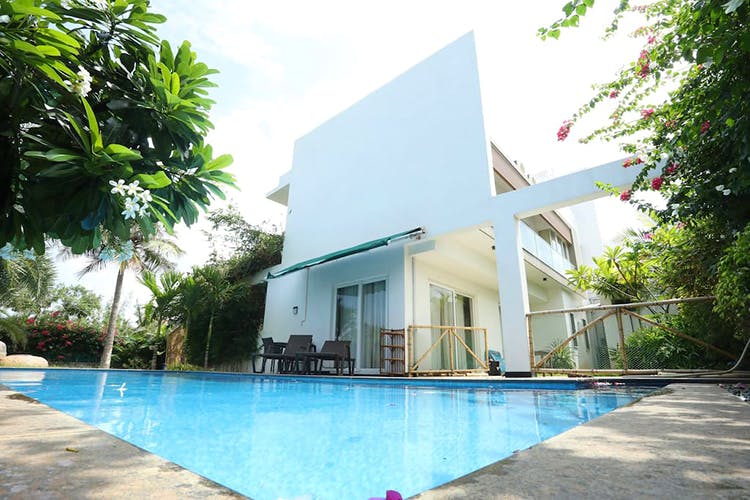 Shortcut
Escape to this gorgeous beach villa in ECR — perfect for you and squad for the weekend.
What Makes It Awesome
Every so often it helps to take a break and get a change of scenery. When better place to do that than this gorgeous 4,000 sq ft designer villa down East Coast Road. The property is located inside a gated community and features a lush lawn and well-maintained pool.
The pool is in an open space on the eastern side of the building meaning, you'll be out of the sun post noon if you get in the pool. Exactly what the doctor ordered for the sweltering Chennai heat. The owners have added a few deck chairs to the poolside and coupled with the surrounding lawn, it becomes the perfect place to just hang out with your squad and maybe drink a few beers.
Though it is worth pointing out that while the setting is great for a house party, the owners are staunchly against raucous party animals, so the property is best enjoyed if noise levels are kept to a minimum. Venturing inside the house, you will find four large air-conditioned bedrooms with twin beds and attached bathrooms, a fully equipped dining area, a spacious drawing room, a kitchen and on the top floor a beautiful terrace with a stunning view of the surroundings. The house comes with high ceilings and large glass windows. Light seems to flow through the house during the day and its proximity to the beach helps with ample air circulation if you're inclined to leave the windows open.
Speaking of the beach it's just a two-minute walk away! And the best part about it is that because the property is far outside the city, the beachfront is clean and quiet. A rare site for any Chennaite. The place is equipped to house eight people, and if needed a few more can be accommodated thanks to the extra mattresses kept by the owners. The property is not your average beach house, it's luxurious and large, and the price actually depends on when you are looking to book it. When we tried booking it this month, it came to about INR 15,000 a night. Now count how many in your squad and divide. That's how much each of you will end up paying.
Comments