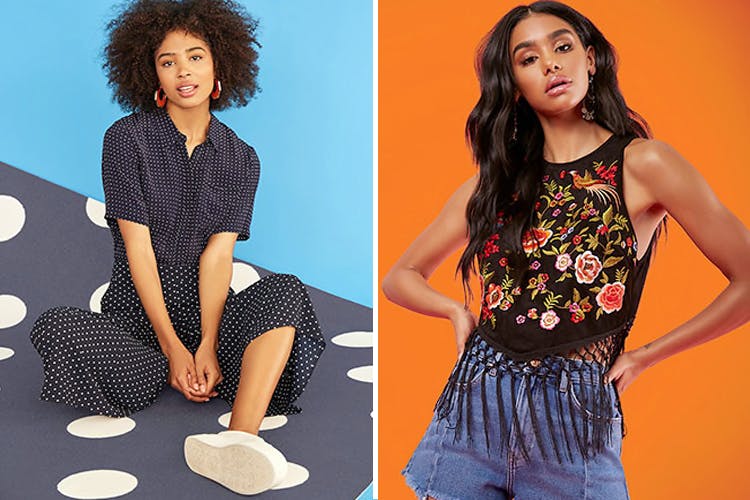 End Of Season Sale: Shop Till You Drop & Get Great Discounts At These Stores
It's our favourite time of the year again, shoppers — end of season sale is finally here! When too much shopping isn't a bad thing and doesn't make us feel as guilty as the rest of the year, right?
If you are planning to revamp your wardrobe, then this is the best time to go forth and shop. If you are not planning to revamp it, then still, feel free to shop. It's great therapy! From high street clothing brands and top-notch shoe stores to department stores and lingerie ones, get your cash, card, cheque or parents, and hit the shops. Then shop till you drop, stop, rest and restart!
Nike
Don't we all wistfully look at those beautiful running shoes, and the snazzy workout wear all year round? Now that it's up to 50 per cent discount, make a dash for Nike stores and stock up on your exercise wear for the whole year!
Marks & Spencer
Our favourite when it comes to loading up on bath and body products, as well as that hind of British fashion, M&S is on discounts up to 50 per cent. Casual wear is the best bet, as is the summer collection (like swimwear and cotton merch). Ladies, if you're fans of this brands lingerie, then hurry and get shopping. They've got buy-one-get-one free offers, but oh, make sure you buy the year's supply of knickers — bet it thongs, briefs, Brazilians, full cover or no VPL, the packs of two, three or four, start at just about INR 199!
The Body Shop
For products almost yummy enough to eat, we love the stuff here at The Body Shop ( the Green Tea range is heavenly, guys). So now is probably the best time to come by here and fill your bath kit with some of their goodies. You get 50% off on select merchandise, so what are you waiting for?
Forever21
Ah, the all-time favourite when it comes to sales, Forever21's stores always make you feel like buying everything. The store has been divided into price categories and you'll have to rummage through piles, shelves and racks to find the right merch for you. We spotted jumpsuits, tees, tunics and dresses starting from about INR 499. They have some great prices for shoes and accessories as well. Go, spend all your money.
Steve Madden
If you're up for some quirky shoes, in OTT colours, or with stud on them, Steve Madden must be visited ASAP! It's not an easy sale, we warn, but if you buy two pairs, you can get 40 per cent off. There's a catch, see, but then again, who buys shoes in singles. One must always buy two pairs of shoes… or so we say!
Charles & Keith
This Singaporean Brand is offering some snazzy merch at up to 50 percent discount. From shimmery sneakers for kids to comfy sliders and heels to kill for, you can bag some seriously good accessories here. Coin wallets, belts and boots are up for grabs too!

H&M
We have three words for you: 50% discount. Before you run off to shop, we're telling you what to shop for! For best value, look for the racks with prices on them. From tees, shirts and dresses, you can get stuff for a little at INR 399! We love stocking up on these – there's tons of cute tropical and floral prints.
Plus, shoes, ties, bags, denims (for as low as INR 799!). Ladies, try picking out jackets and coats, they're much cheaper than usual — think INR 3,999 instead of INR 7,999! Lads, the denims, formal shoes and coats will fetch you best value. Then everyone be whimsical and buy shorts, socks, hats, belts, tees and shirts. There's a section for kids too, so don't forget to pamper the little ones either!
Lifestyle, MAX, & Shoppers Stop
All these department stores are on a heavy discount too. Some even go up to 60 percent, but that depends on the in-house brand. We cannot quite say what you should buy because you get everything from shoes and apparel to accessories and home decor, but we will say this: don't just buy for yourself. The festive season is not too far away, and it's perfect to stock up on gifts for the fam, and for friends. You're welcome!
Nykaa
Yes, our favourite cosmetics store is running up to a 40 percent discount across brands like L'Oréal, Maybelline, Lakmé and Nykaa itself. Makeup kits and combos, essential oils and organic beauty brands are also available at slashed prices. It's time to refresh your beauty stash!
Comments