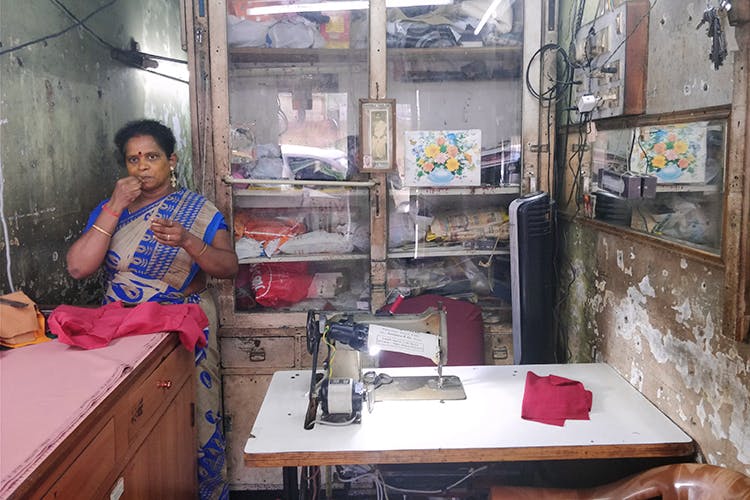 This 70-Year-Old Tailor Shop On Kutchery Road Makes Perfect Blouses
Shortcut
Family Tailor is one of the oldest tailor shops in Mylapore, and is known for their customers' loyalty. We aren't surprised, as they have been around for 70 years now!
What Makes It Awesome
You can't picture old Mylapore without Family Tailor, or that's what we think at least! They have been in the stitching business for generations and their customer loyalty is what keeps them going.
Bang in the middle of Kutchery Road, this shop remains just like its pictures from the 60s. We walked in and saw an old table fan, a vintage radio (we're not even sure they make these anymore), an AIWA television set, a chipped table that had books stacked on one end, and remnants of a blouse. One of the salespersons (she didn't want to reveal her name) has been working at the store for more than 30 years. She recalls how they were stitching blouses and altering clothes for just INR 20 back in the day.Now, the rates have hiked and stitching costs start from INR 500.
Nothing has changed in the store in the last 30 years since she joined, she says. In fact, the customers she stitched for three decades ago are still dropping off fabric now. While back then, orders were for pavadai-davini and puffed blouses, people these days want to go with deep-necks and V-cuts.
We spotted an old, dusty diary on the table. Upon questioning, we are told that this shop has documented almost every customer's order, way back from years ago! More than 60 years later they continue to jot down names in diaries. Even though Diwali is far away, they are already swamped with orders. So, they might come across a little hesitant to take new orders.
Pro-Tip
This is not one of those stores where you can expect your blouses stitched in an hour. So give them their time and they will return the blouses. They are experts in stitching blouses and blouses only. So, don't take your designer salwars and be disappointed. If you want a specific pattern, show it to them and they will replicate it.
Comments