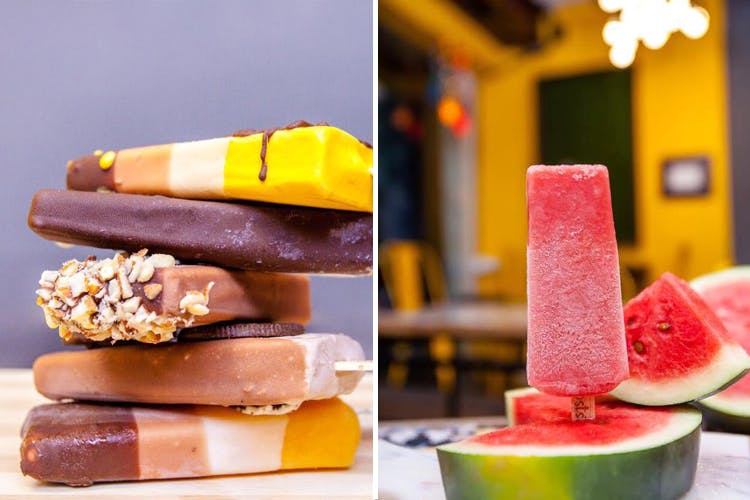 Chennai's First Popsicle Shop Is Now Open And We Have All The Fruity & Frosty Details!
Shortcut
Hyderabad's favourite popsicle brand — Froststicks — has now opened doors in Chennai and you don't need to spend beyond INR 100 to get your fix of juicy, summery popsicles.
What Makes It Awesome
Summer is still here and we just discovered something super exciting to beat the heat this year. The cute little Froststicks kiosk in Forum Vijaya Mall has not one but plenty of regular as well as quirky popsicles to choose from and we happened to feast on many of their amazing flavours with loaded toppings.
Now who doesn't love ice cream, but imagine your ice cream popsicle with fruits? Yes. Froststicks specialises in some delicious fruit sorbet popsicles ranging from Kiwi to Black Grapes and a lot more of yummy mixed fruit combinations. The ones worth drooling over are their Mixed Fruit Sorbet and the Watermelon Popsicle, totally natural and delicious.What are fruit popsicles without the king of fruits? The Mango Popsicle doesn't disappoint either.
Like any other ice cream joint, Froststicks too has a line up of the classic chocolate flavours and others like Kesar Badam, Custard Apple, and Swiss Chocolate. But what makes this popsicle experience interesting are their heavy toppings. A must try is their Ferroro Rocher Choco stick and the Apricot Popsicle. Also, if you're a KitKat lover like us, go ahead and load up your chocolate and cream popsicle with chunks of Kit Kat. In their toppings, the most preferred one happens to be their crumbs, that goes pretty well with almost any flavour stick. So the next time you are looking to cool down and you're bored of those routine choco bars — go get yourself a couple of popsicles from Frosticks.
Price: INR 80 upwards
Comments