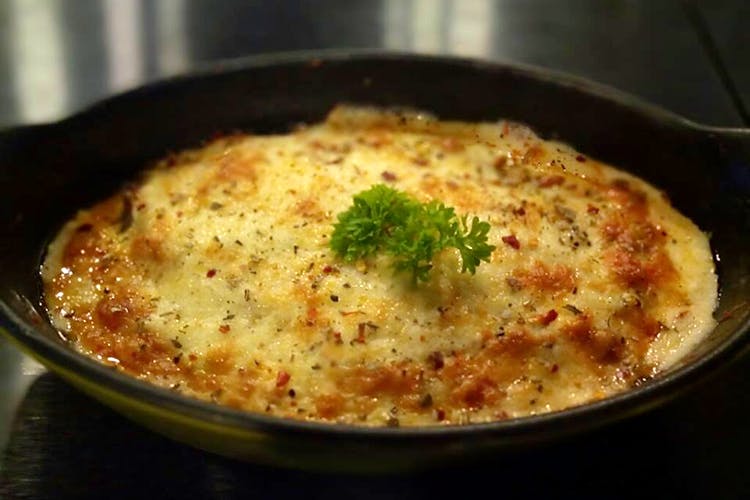 Quick And Pocket Friendly Italian? Look No Further Than This Cute Eatery In Kilapuk
Shortcut
What was once a small eatery is now a bungalow-converted into a cafe. But no matter what, Fusilli Reasons will always be one of our favourite eateries in Kilpauk for quick Italian food at pocket-friendly prices. Perfect for those express work lunches or end-of-the-month scenarios.
What Makes It Awesome
Started a couple of years ago, this relatively under the radar joint has shot to fame and we wanted to find out why. Situated in the middle of Kilpauk, Fusilli Reasons caters to the school/college going crowd by offering simple Italian short eats at modest prices. The eatery itself is built in a house with high ceilings and old South Indian architecture, almost making it feel like a mess, but the bright yellow light fixtures, blue walls and GnR playing on their music system make it feel otherwise. It's a no-frills kinda place, with old laminated menus and simple wooden tables and chairs, the focus is on service and everyone there knows it.
Their menu is small, with there being just around 20 dishes on it. Their garlic bread and pasta came highly recommended, so we decided to try them first. If you're new, we suggest you get the assorted plate of garlic bread as it's a good way to pinpoint which one you like. We liked their beetroot mayo garlic bread, because novelty and because it's pink! If you like your food a little sweet, pick the spinach and corn garlic bread because the corn while unsweetened adds a little of its own taste.
The pasta themselves weren't too original with there being the usual white, red and pesto sauce varieties and not a lot of toppings, in fact, the pasta is readymade with just the sauce being made in-house. Having said that we can see still see it's appeal because it's junk food and junk food tastes good, especially when it's served to you at just INR 130. Jain friends, they've got separate versions of the pasta suitable for you guys, all at the same price.
The beverage section has just three drinks, lemon iced tea, orange, and lemon Tang. Maybe it's the rush of sugar or the fact that it's served to you chilled in glass bottles with plastic caps, something about it makes it taste so good. All just for INR 35 a bottle!
As far as we know this is the only eatery that does Italian at this price point. While connoisseurs may turn their nose up at a place like this, we think they're doing a great job, don't believe us? Just ask the dozens of school and college kids that frequent the joint all day. They are also opening a new branch in Nungambakkam, so yay!
Comments