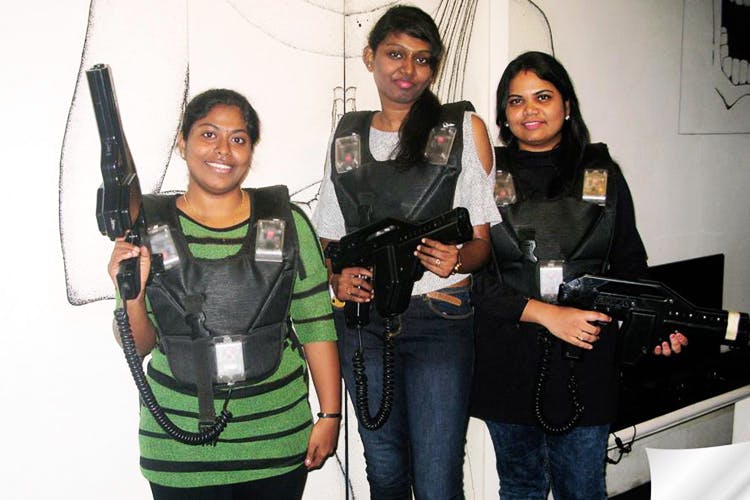 We Found A Laser Tag Arena In Nungambakkam And You Have To Go With Squad
Shortcut
Looking for glory and something fun to do with the squad? Head to G Sector – Lazer Tag in Nungambakkam for a game or two or three of laser tag!
What Makes It Awesome
Just a head's up – if you've never played laser tag before, be warned, it's incredibly addictive! Wear your glowing jackets, get your gear on, lurk around a maze-like dark room hunting for your target and SHOOT! Sounds insane doesn't it? So much less painful than paintball (here we get to do away with those darn pellets thankfully). You'll need to get at least two other friends on board to a maximum of 10. And you pay INR 250 per person for 15 minutes. Yeah, it does sounds like a pretty short period of time but have you played a game? It's absolutely exhilarating — running, jumping, hiding and even screaming. Hey, the adrenaline makes you go crazy sometimes and you're constantly on the move. Point your lasers at your opponents and find your path to victory.
Unfortunately there's only Laser Tag in this space in Nungambakkam and the place is about 1,300 sq ft, but you can check out our list of fun things to do in Khader Nawaz Khan Road (KNK) when you're done with a game. G Sector also has a new set up in Mayajaal that's about 1,500 sq ft for you ECR folks. They even host parties and corporate events too in KNK . So get your gang together and bring a whole lot of stamina. We promise, it's worth it!
Comments