Play Footy & Cricket With A View At This Sky-High Sports Hub In Egmore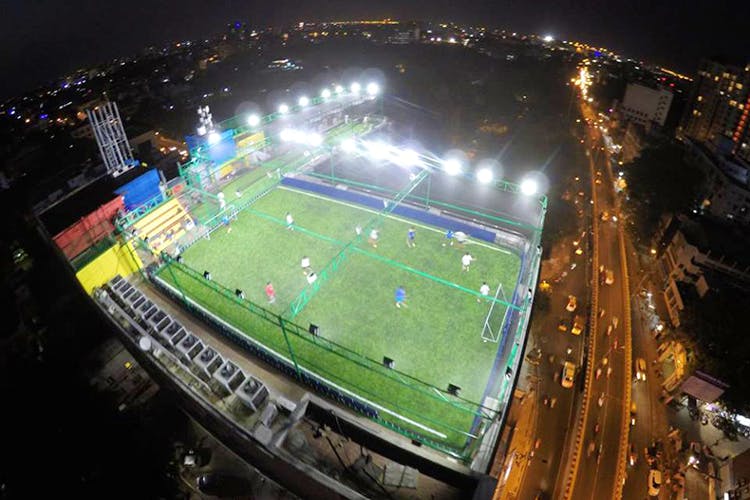 Shortcut
Play cricket and football on a rooftop, floodlit, turf ground at this sky-high sports hub on Pantheon Road, Egmore.
What Makes It Awesome
Situated just next to Fountain Plaza in Egmore, Game On is a sports hub on a terrace where you can play cricket and football. They have a separate futsal turf court and a separate court with two batting nets for cricket. The space is enclosed by a strong protective mesh that has floodlights for night time games.
Speaking of football, the turf being used is top quality and has been laid recently, making it fun to play and more importantly safe to play on. Size wise, the futsal court is good for a 4v4 game just like most other indoor pitches, we just wish the goal posts were set into the cage as opposed to being part of the pitch (more space that way).
Moving to cricket, there are two batting nets along with a bowling machine. You'll have to bring your equipment though as save for balls they don't have any you can use. If serious batting and bowling practice isn't for you, you can play a game of gully cricket with your friends instead! Frequented by footballers and cricketers from around the Egmore area, Game On is known locally for its affordable pricing (in comparison to other hubs) and periodic events. FitKits, recently held a workshop there and there was even a football tournament which had cash prizes for INR 14,000.
Price wise, an hour of football on Weekdays starts at INR 1,500 and INR 500 for an hour of cricket. We think Game On is a nice place to play because the owners have taken the time to put effort into the small things, like a nice audio system (where you can listen to music and play) or that they customise the lighting to ensure the cricket ball stays visible when playing at night. They have periodic discounts going on too, so be sure to check their Facebook page before booking.