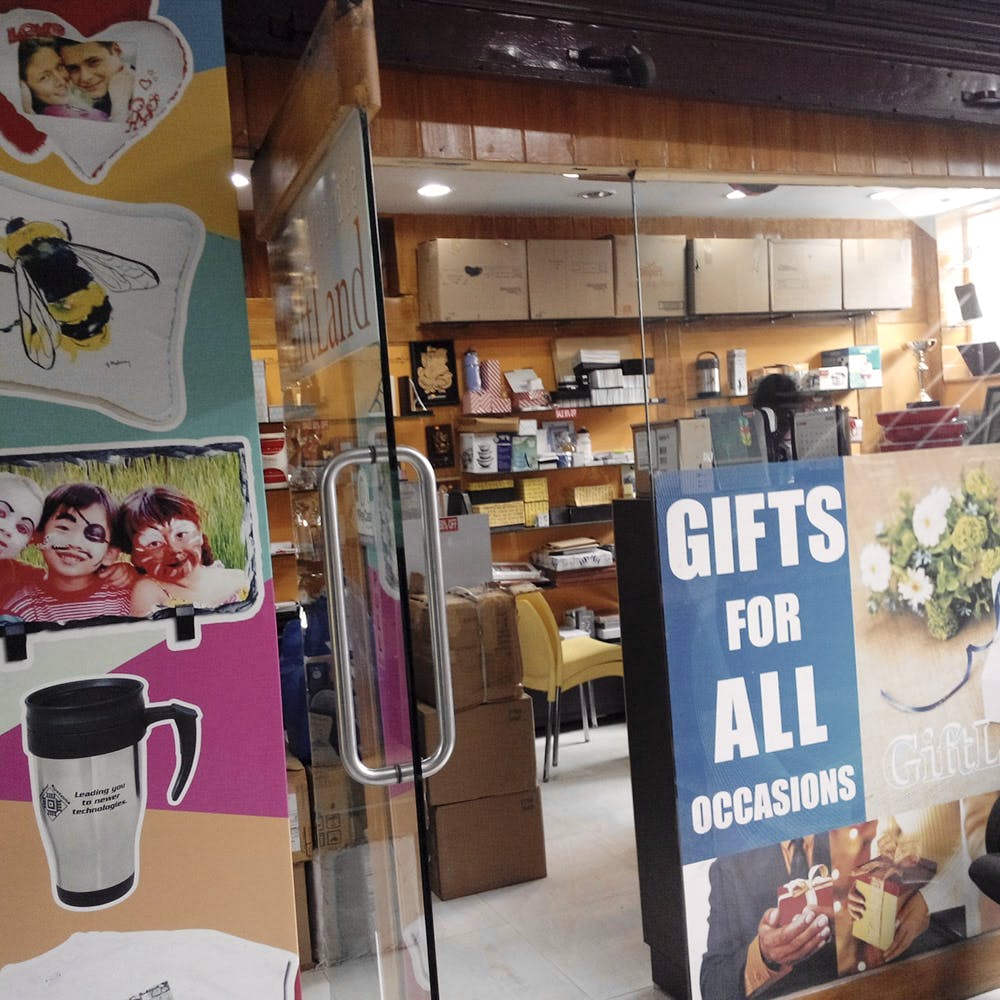 Shop, Skip And Jump Your Way Through Kodambakkam With This Shopping Guide
Peeps! We took a stroll around Kodambakkam and apart from the massive bus station, we found some pretty cool places you can shop from. From book stores to customised T-shirt printing shops here is a guide you must check-out while shopping at Kodambakkam.
Kalaimagal Book Stores
From Archies comics to Amar Chitra Katha and Aesop's fables, this book store has something for adults and kids alike. They also keep text books from publishers like S. Chand and Anu Chitra Publishers. They have a good collection of Agatha Christie books along with one or two titles by Robin Cook too. Although the racks were missing Sydney Sheldon, they had a few titles by Jeffrey Archer.
Selva Book Stall
This little hole in the wall is a haven for some awesome and legendary titles and authors. From John Grishams 'The Testament' to Dan Browns 'Digital Fortress', this book store has it all. They have an entire shelf dedicated to Daniel Steel as well. We even found a lot of language books from Tamil to French and Tamil to German. The thatha who sits at the stall knows every title by heart and can pull out your requested book in seconds with an unimpressed expression.
Tee Point (T-Shirt Printing Chennai)
This store in Kodambakkam is popular amongst college students for it's budgeted printing services to customise t-shirts. They take orders in bulk, but upon request will also take orders for 50 t-shirts even. They provide the t-shirts which come in cotton and polyester fabrics from their manufacturers and they will also take t-shirts from you and just provide printing services. The costs vary depending on the intricacy of the design and the space covered by the print. They take up orders for hoodie prints too!
Gift Land
It's gifts galore at this store in Salma Complex Kodambakkam. From 'Employee Of The Month' trophies to metal water bottles this little gift shop has all sorts of corporate gifts for our professional team. They customise gifts by taking any logo or print that you'd like to add and print it on mugs, photo frames, etc. They also embed using a laser, the pictures or text you provide, over wooden planks or key chains.
Pets Corner
This pet shop stocks everything your furries need for a healthy and happy lifestyle. From nutrition supplements to doggy toys, you'll find it all here. They even keep cat and guinea pig litter for those smelly enclosures. They have a range of chew toys and doggy bones along with scratch pillars and play balls for cats. They even have some cute bow ties and other outfits for your pets.
Khadi Emporium
From lungis to veshtis and sarees to blouse materials, Khadi Emporium has it all. Their saree designs are all plain but come in bright as well as dull colours. Most of their sarees have thick golden borders which bring out the subtlety of the saree. As for men, their lungis are pretty traditional with the common checkered pattern and starchy fabric. They even offer smart veshtis with fat as well as thin golden borders. Some of the veshtis even have a slightly unconventional red and green border with hints of golden zari work too.

Furn World Furniture
This massive furniture store in Kodambakkam is where you should be if you are planning to set up your digs with some contemporary decor. Furn World Furniture houses a collection that expands across dining table sets and beds, but what caught our attention was their sofa sets. From two-seaters to L-shaped ones, this store keeps a variety of regular designs you will love. They also have a whole collection of funky designs for living rooms.

Nellai Sports
Cricket, football, volleyball, basketball, what's your game? The merch here starts from INR 500. Tennis balls, corks, rackets, gloves, this place is perfect for those who love sports of all kinds. You can also get your old bat restrung here. You can hoard up on light cardio equipment such as skipping ropes, battle ropes, and resistance bands too.

Her's Boutique
Ladies! It's time to add some pizzazz to your wardrobe with fab western wear from this boutique on Arcot Road. From floral tops to brightly coloured tees, this store has everything you want in your wardrobe. They have some casual dresses that you can wear to office too and at drop dead rates!
Track And Trail
Ok, this one's for all you biking freaks. This massive cycle store in Corporation Colony in Kodambakkam, is the store from your dreams. They offer everything from bikes to apparel! They even offer gear like knee and elbow pads and helmets. You will also find seat adjusters and bike seat cushions to make your ride as comfortable as possible.
Comments