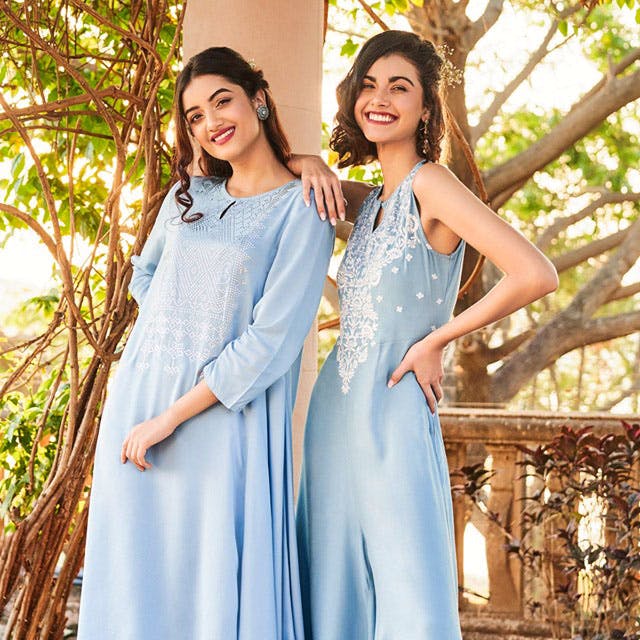 BIBA To H&M - Best Of Women's Fashion
Hey ladies? Looking to spend a day pampering yourself by shopping till you drop? We have a guide to the best stores for you to hit for a glam day at the mall! Don't forget to pack those empty shopping bags, because for sure you'll need them baby!
Aurelia
This store is for all you boho chicks who love to flaunt their indie vibes. From traditional office wear to casual wear, this brand has something for every style. We fell in love with their summer collection which came in peach hues and ingenious off white and cream colours. They have some elegant embroidery designs too.
Biba
Yes! Hit this store for all things ethnic. Perfect for all you worker bees out there, this brand offers a great collection of ethnic apparel for all occasions. From long kurtis to short kurtis, printed to embroidered, salwar suits to chudidars and sarees to lehengas, this store has got your back for that quick emergency when you don't have enough time to get your clothes stitched. A lot of the apparel is easy on the pocket so keep an eye out as you sift through their collection.
Calvin Klein
Alright! It's time to rock that gangsta look with awesome western wear from this brand. Ladies! Their distressed jeans are drool worthy, so don't wait to pull them off the racks! Of course their lingerie collection is on point too. This brand speaks for itself but we must take a dig at those fantastic biker tees for women.
Chemistry
Do not leave this store without checking out their dresses! We love what they have to offer in that section. From lace to body hugging, Chemistry comes up with fab dress designs we can pocket on any day. They also have a good collection of tops and pant-suits that you must take a look at if you love to nail that formal chic look.
Fab India
If you like that ethnic boho look, then FabIndia is the store for you. You'll find delicately hand woven and stitched apparel which has been dyed with subtle colours. Some of their apparel is embroidered too. They have an awe worthy collection of handloom sarees that look extremely elegant and deserve a mention.
Essa Taqua
Another apparel store for you that offers ethnic and western wear, Essa Taqua is a family store where you can get clothes perfect for you to pull out of your wardrobe on a busy day and look fab. They also keep clothes for girls and we loved their little cotton frocks. They also keep apparel for boys and their collection is definitely worth checking out.
Forever 21
Yes, yes and yes! If you are at Express Avenue Mall then you cannot miss a visit to this store. Forever 21 is how we keep up with the latest fashion trends and also how we fill our wardrobe with them too. Take a walk around this store and we guarantee that you'll end up with a pile of awesome clothes at the check-out counter. From apparel to accessories, Forever 21 is our favourite.
Comments