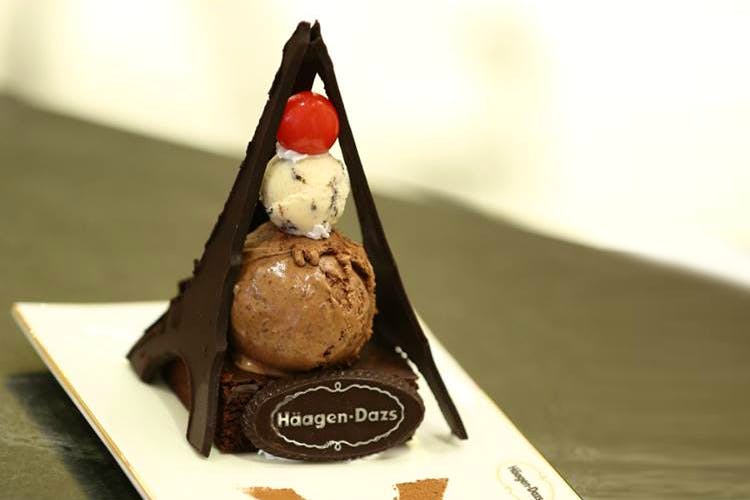 Eiffel Tower To Gooey Fondue: Scoop Up Insta Worthy Creations At Häagen Dazs
Shortcut
If you want your ice cream to look as good as it tastes, then you need to try the decadent creations at Häagen Dazs, if you haven't already. From regular scoops to decadent ice cream cakes, and sinful fondue these guys do it all. Plus, they are open till midnight guys!
What Makes It Awesome
With three outlets in the city, Häagen Dazs is a must try parlour, not only for its ice creams but also for its ice cream cakes, beverages, waffles, crepes, and ice cream platters. On the menu, you'll find their signature scoops of flavours such as strawberry cheesecake, summer berries and cream, chocolate midnight cookies, dulce de leche, mango and raspberry, caramel biscuit and cream among other usual flavours like mango sorbet, raspberry sorbet, Belgian chocolate, macadamia nut, vanilla, and coffee.
You can also add a range of toppings to go with your ice cream scoop. There are sauces (caramel, chocolate, strawberry, raspberry, and whipped cream) to crunchy options like cone chips, sprinkles and chocolate picola sticks and also nutty varieties like almonds and caramelised hazelnuts. They also have cookies, muffins, brownies, crepes, waffles and even pancakes to add to your very own ice cream sundae.
Häagen Dazs also scoops up some Insta worthy sundaes and ice-cream platters. Their Eiffel Tower is a creation that looks exactly like the iconic Paris landmark and comes with a scoop of cookies and cream and Belgian chocolate ice-cream along with a brownie, whipped cream and a dark chocolate slab shaped like the tower itself. Similar to the Eiffel Tower is the Brooklyn Bridge that comes with scoops of chocolate, strawberry and vanilla ice cream that's placed on a delicate chocolate bridge, garnished with strawberries and a chocolate semifreddo.

Pro-Tip
They have two ice cream platters, a Classic Fondue platter, and a European Fondue platter and there's also a nitrogen platter called Seventh Heaven. The Classic fondue comes with mini ice cream balls, fresh fruit, and toppings with a hot chocolate fondue cup. The European version comes with mini ice cream balls, macaroons, pancakes, brownies and crepes with another hot chocolate fondue cup. Seventh Heaven is a platter that comes with seven ice cream scoops of your choice. The magic is in pouring the liquid nitrogen over the ice cream. Best part? All of this can be shared easily!