The information in this post might be outdated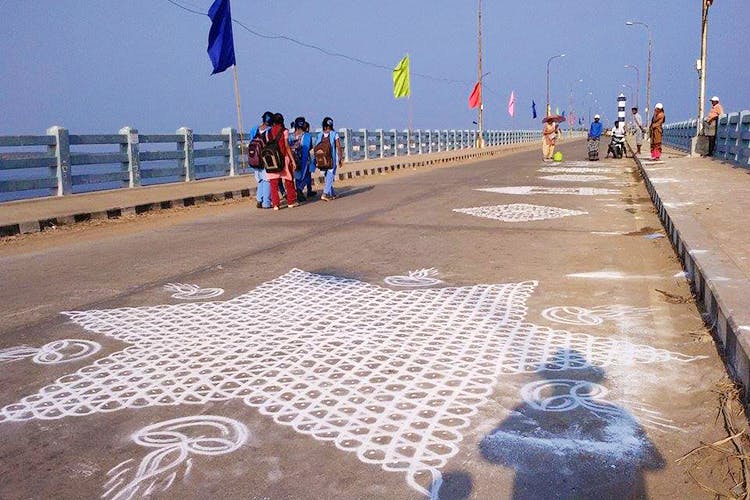 Here's Why These Madras Week Events Should Be Part Of Your LBB
It is time to ring in Madras's birthday and the city as usual has a plethora of events and workshops that you can choose from. For the outsiders, well, August 22 is the day when Chennai was ''found'', when the British bought a piece of land and established the East India Company. Even though it is just one day, the celebrations are spread through the month in the form of events like workshops, bicycle rides, food and nature walks, quiz competition and exhibitions. By the end of the month, you will be able to find out how Chennapattinam transformed in Madras that in turn has become Chennai today. We list down a few events that you should note in your LBB this Madras Week.
Exhibitions
There are quite a few exhibitions that are being held in the city. For book lovers there is Display Of Rare Books that opens at Madras Literary Society from August 25. The one that caught our eye is the Anglo Indian Crafts & Cuisine Fair that will take place at St George's School Campus on August 25. Expect homemade craft designs, and mouthwatering food cooked by families from Chennai. Chennai-based artist and writer Pavithra Srinivasan has on display a series of intricate, nuanced portraits that capture the city at it's best. This will be at DakshinaChitra, till August 31.

Walks
While Sowcarpet and Mylapore are done to death, the food walk at Purasawalkam is new, on August 25 at Mehtaas Vada Pav center. There are also a couple of heritage walks that are taking place in the city. Do not miss the walk by historian and philatelist Hemachandra Rao, who is conducting The Buckingham Canal, on August 19 and will be taking people to the Canal which was a key transport channel for the city. For the museum lovers, there is a walk by Chithra Madhavan on the Bronze Gallery at Madras Museum, taking place on August 26. Heritage & Eco-Walk at Pulicat on August 25 will give participants a complete understanding of the heritage, ecology and culture of Chennai. Conducted by Trace Origins Of Madras, the walk will be conducted by Xavier Benedict and architect and academician.
Nature Walk
If you are a nature lover, then do go for one of the nature walks that are popular and very informative. The tree walk at Kotturpuram (August 26), organised by Nizhal is one of the best and gives you an insight on all the trees that you might have crossed at some point of time. Spot the different species of butterflies at the Butterfly Walk organised by Madras Naturalists' Society on August 25. Bird watchers can opt for the Bird Walk taking place at Perumbakkam Tank, on August 19.

Talks
Another important feature as part of the Madras Week celebrations are the talks and discussions. One such unmissable talk is Pacchaiyappa's Will that will be delivered by V Sriram and will be at The Folly, on August 23. Actor and historian Mohan V Raman will deliver a presentation on Hindi films that were made in Madras on August 22, at The Hyatt. Know more about the Dravidian history as part of a conversation, facilitated by World Storytelling Institute, at Sagar Vihar Restaurant. Dance lovers can attend a lec-dem by Lakshmi Ramaswamy on the 2000-year-old Sangam Age through Bharatanatyam.
Quiz
Show off your knowledge about the namma Chennai as the biggest quiz in the city is round the corner. The Madras Quiz will be held on August 19, at MMA Auditorium. The quiz will be conducted by Dr Sumanth Raman and the best part? No prior registration is required.

Comments