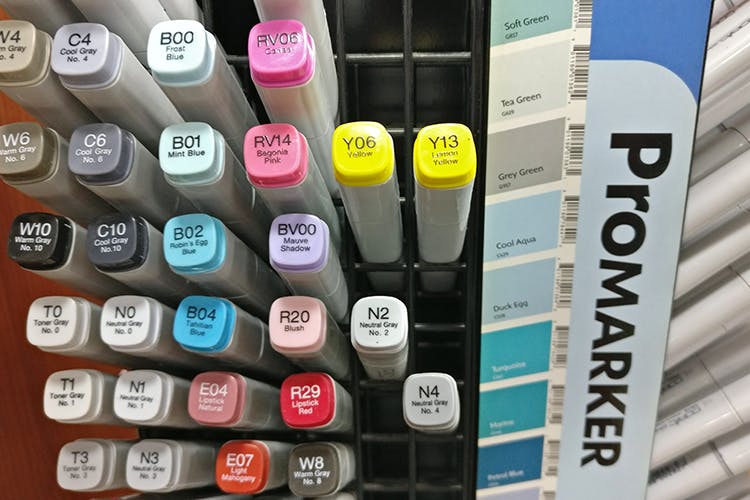 10 Quirky Products We Found At This Iconic Stationery Store For As Low As INR 30
The Hindustan Trading Company is a great place to pick up art and stationery supplies, but also a great place to pick up interesting little knick-knacks that are hard to come by. Here's a list of our 10 favourite quirky stationery items you can buy at HTC.
Zip Up Pencil Case
This unorthodox strip of zipper actually zips up to form a pencil box! They come in different colours too like pink and yellow and will set you back a measly INR 120. Storing it when not housing pencils are easy as it unzips to form a strip that can be rolled up. Great for gifting to those back to school kids.
Staple Free Stapler
This genius little invention is a stapler that can staple up to four sheets of paper together, all without using staples! It does this by folding the paper over tightly so that it holds together. Save the environment and staple paper for INR 285.
Flexible Curve Scale
Hate having to measure the length of a curved line with a string and then hold it against a ruler? Then check out this flexible curve scale that bends! It can help draw curved lines too, thanks to its moldable structure. The flexible curve scale costs INR 320 and is available in lengths from 30 cm to 60 cm.
Body Painting Crayons
Safe, easily removable and abundantly vibrant body paints are available in basic; red, yellow, green, blue, black and white. Prices have quite a bit of variety with some brands as low as INR 170 and up to INR 420. Turn in to the Avatar or The Hulk for the next costume party with the help of these body paints.
Montana Gold Professional Spray Paint
Looking to try your hand at graffiti? Or just want to paint something over? Check out the range of spray paints in more than 10 colours (pink, green, yellow, blue, red, etc), each 400ml can for the price of INR 550 (over INR 500 we know, but we thought it was worth it because it's hard to find good spray paint in Chennai). The paint is fast drying, with a matte finish and is odour free. Incidentally this brand is widely used by graffiti artists across the world.
Canson Coloured A4 Paper
Jazz up your reports and assignments with Canson coloured paper. The paper is unique in that it has a fine grain finish on one side and a honeycomb grain finish on the other. The quality is what makes it a little pricey as five sheets of paper costs INR 120. Not for everyday use, definitely for special occasions.
Twin Tip Markers
This product called the Promarker has customizable tips in a massive range of colours that you can add to your marker, so your marker can have two separate colours on either side! The best part about it is the range of colours and shades its available in. Each marker is, unfortunately, a little pricey and will set you back INR 230 per piece.
Mini Art Canvas And Easel
These cute little canvases are the size of a human hand! The canvases are real and can be painted on and once opened, the easel is actually functional. They're super cheap too with the canvas and the easel costing INR 110 and the plain canvas just INR 90. Great for just putting up around the house, if you've got a little one who's trying to paint.
Artline Pencil Sharpener and Extender
This interesting little knick-knack will give your pencils a little longer to live. Using a pencil as it reaches its end is difficult because there's not much left to hold, so to fix that you can pop this extender on top of it and use it right to the end. There's a sharpener on top too. This also happens to be the cheapest item on the list at just a mere INR 10.
Coloured Notepads
Make your back to school/college transition easier with these cute coloured notepads. Great for taking notes and maybe doing a little origami too! They're quite inexpensive too with INR 30 fetching you a pad of 50 sheets. They're available in a bunch of colours so be sure to check them all out when you're buying them.
Comments