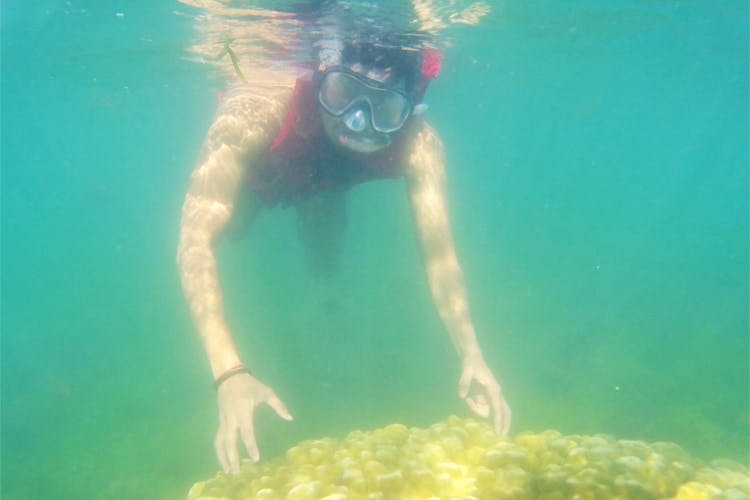 Snorkeling & Glass Bottomed Boat Rides At This Gorgeous Getaway Close To Chennai
Shortcut
Holy Island Water Sports, in Rameswaram, is the place to check out if you're in need of a weekend getaway for water sports like snorkeling, kayaking, and even windsurfing!
What Makes It Awesome
Rameswaram is a coastal town 600 kms south of Chennai (about 10 hours by road), that has become a tourist destination in the recent years, thanks to its pristine clear waters, beautiful beaches, and delicious seafood. With its increased popularity, comes the demand for activities and things to do. Enter Holy Island Water Sports, the only water sports facility in Rameswaram. Set up in November 2014, Holy Island Water Sports has expanded its activities to include, jet skiing, stand up paddleboarding, snorkelling, kayaking, and windsurfing. Snorkelling is especially popular as the coral reefs just offshore are a sight to behold.
Price wise the activities vary quite a bit, with the most expensive ones being windsurfing (INR 1,500 per person for two hours) and snorkelling (INR 1,200 per person for one hour) thanks to the equipment and training provided by their divers. The training is meant to take an absolute beginner through the experience and you will always have a diver accompanying you while snorkelling and windsurfing.
The same is true for jet skiing where it will be ridden by one of their trained professionals and you can ride pillion (INR 300 for 5-6 kms). Kayaking (INR 250 per person for one hour), stand up paddleboarding (INR 400 per person for 1 hour) and glass bottom boat rides (INR 200 per person for 20 mins) are much less expensive.
Swimming is not a required skill as you are provided with a life vest, and a trained diver to accompany you. Also do note that all activities need to be booked in advance, and it is advisable to check in with them about the weather conditions a week before you arrive.
Not only do you get to check out watersports, but they've also got activities on dry land too. Trampolines for kids, zorbing on water, a tiny Ferris Wheel and even a Dragon Ship (a ride from an amusement park) all just for INR 30 per person. All that activity is bound to make you hungry, and so these guys have started to offer their own homemade seafood lunches for large groups. The prices of which are subject to the availability of seafood. The perfect way to cap off your fun adventure filled weekend.
Comments