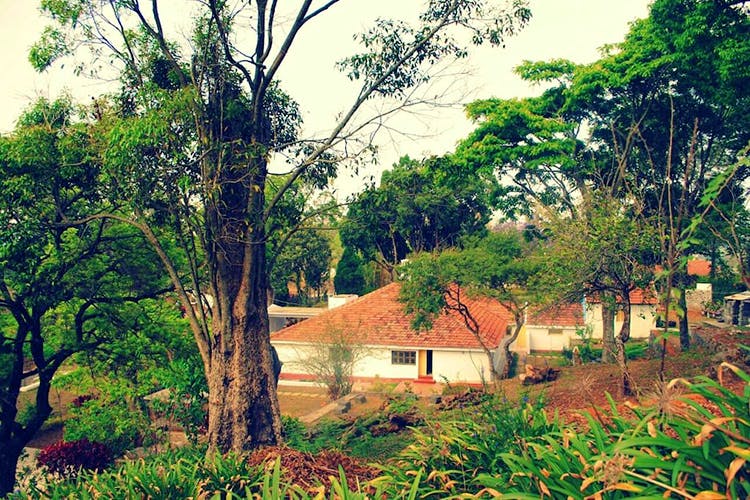 Ditch Chennai This Summer & Check Into These Charming Homestays In Yercaud Instead
It's always sunny in Chennai and with summer fast approaching we do need a break from the blistering heat now, don't we? So why not head to the unscathed hills of Yercaud which is just a 6-7 hour drive from our city. And if you want to get away from the hustle of city life and are looking for quietude and strong cups of coffee, this place is perfectly serene and isn't overflowing with tourists. What are you waiting for? Go ahead and book a room at these (cooler) homes away from home.
Carlton House
This budget homestay is a little gem in the lapse of Yercaud's natural serenity and a five minute walk from Yercaud's famous lake. Grab your sneakers because this place even has a basketball court! Run by Ashish Godya and the Godya family, be ready to be greeted by them and their doggo Tipsy. Bring your puppers along and make it a play date, yeah? Ashish organises treks, photography workshops, and even BBQs and bonfire nights and is soon planning to roll out heritage walks too. There are four bedrooms and the place can house about 16 guests.
Price: INR 1,500 per night (at the time of this publication)
Tipperary Colonial Bungalow
Get a peek into the valley at this 1900 colonial style bungalow that offers five bedrooms that can house about 13 guests. The place has a great mix of old world charm with modern comforts and the space in the middle of a gorgeous coffee estate and the view is just breathtaking here. Oh and there's a Charles Dickens connection here too. Apparently, his brother's great-great-granddaughter was born here, according to owner Sathyendran. The coffee is a must-have here, he says and for those who want something to do outdoors, there's rock climbing, night and day safaris, and off-roading too!
Price: INR 7,400 for 4 people per night (at the time of this publication)
The Last Shola Cottages
This place is a mix between homestays and a resort. Tucked away from the town in the middle of a 250-acre coffee plantation, there are 12 cottages (each with a colour theme) on site. Don't expect restaurant like food — it's homely and made in the in-house kitchen. There's a cliff nearby that is known as Heaven's Ledge and is a fantastic sunset point. So get those cameras out. They even have a private lake where you can go fishing and boating. Oh, there's also trekking and bird watching for you nature lovers as well.
Price: INR 3,500 per person per night (inclusive of all meals) (at the time of this publication)
Fairholme Bungalow
This guesthouse is close to Yercaud's Big Lake and was built in the 1800s. The bungalow is raw and rustic with classic red tile flooring, chimney places and a lovely garden in front. The house needs to be booked in entirety; it can accommodate 12 people so it's best for family holidays or a trip with your entire squad. There's no WiFi and the signal gets spotty so if you're coming here, let it be to enjoy a city-break. Spend time just unwinding and spending time with your family or friends. You can even visit nearby restaurants that are around a ten-minute drive.
Price: INR 15,000 per night for the entire bungalow(at the time of this publication)
Whispering Winds
Want to cuddle up in a cosy wooden cabin in the hills? Whispering Winds is a cottage with two bedrooms that is 10 km from Yercaud town. It offers modern facilities like hot water, TV and up to six guests can stay here. If you want to just do absolutely nothing, cosy up with a book or go on long walks, this is the place. There's nothing much to do around here. A campfire can be arranged but if you want to go to the more touristy spots you'll have to go on that 10 km drive to town. For food, you can whip up your own meals in their in-house kitchen or ask the caretaker to get food from nearby hotels.
Price: INR 6,000 per night for the entire cottage (at the time of this publication)
Comments