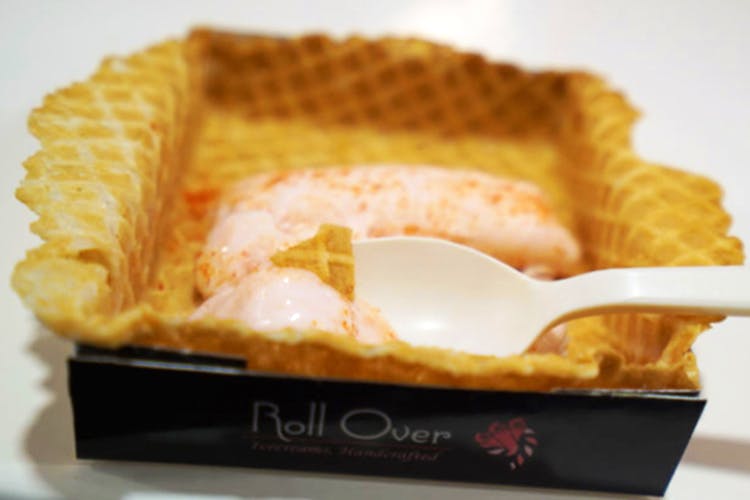 Delivery Available

Wi-Fi Available
Guava Chilli Or Butterscotch Popcorn? Head To This Parlour For Ice Cream Rolls In Unusual Flavours
Shortcut
Roll Over in RA Puram serves cold stone type ice creams with unusual flavours and decadent flavours. And they also have fries with eight kinds of dips to choose from incase you don't care about ice cream.
What Makes It Awesome
Now at first glance, this might seem like your average dessert parlour. It's got Hot Chocolate Fudge Sundaes, a Death By Chocolate dessert and the usual arsenal of milkshakes (Tiramisu, Ferrero Rocher, Strawberry Cheesecake, and more). But there's a little more to it than that. For starters, their ice creams are handmade and in the shape of a spring roll. Now all you Cold Stone ice cream lovers may be thinking, 'Hah! I've had that." Well sure you have, but have you had a Guava Chilli roll ice cream? Or a Butterscotch Caramel Popcorn ice cream? We haven't, and that's the first thing we're going to try out.
They've also got a list of Gourmet plates that have their signature ice cream rolls served along with their traditional desserts like brownies with chocolate syrup, chocolate lava cake, mango mousse and so on. If ice creams are not your scene, they've got their dessert jars like a double chocolate mousse, a strawberry red velvet cake, and a Mississippi mud pie.
However one part of the menu excites us more than others, and it's their fries. For INR 85, you get a plate of fries and a choice of two of eight different dips to go with it. To make things even tastier they've got lemon chili and oregano spice you can add as toppings. Their dip varieties include Peri Peri, BBQ, Chipotle, Jamaican Jerk Seasoning, Cajun Spice Mix, regular cheese, Chili Garlic, Mexican Salsa and Tandoori Tikka.
Our biggest takeaway is that this dessert parlour screams value for money. Even the Sundaes are fairly economical, coming in at around INR 110. So rest assured you stuff your face for just INR 200.
Comments
Delivery Available

Wi-Fi Available