The information in this post might be outdated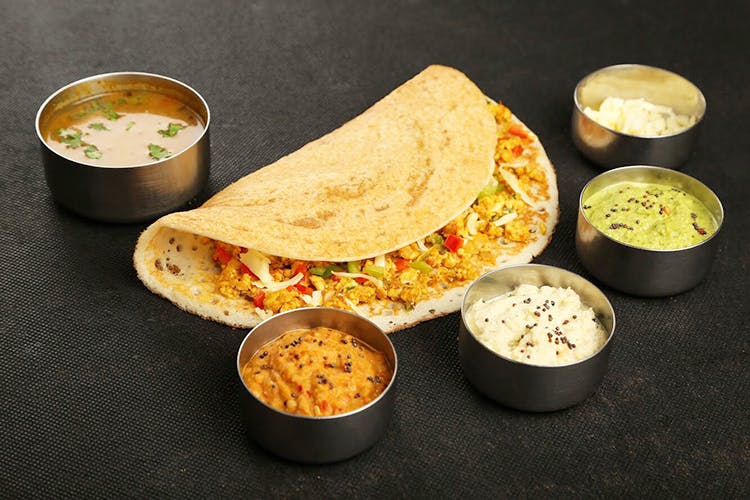 Jackfruit Or Pattani Masala? Dosa Lovers, There's Going To Be 25 Versions At This Fest
What Is It?
Come one, come all. If you love this South Indian staple that is… ( But hey, who doesn't?) Get ready to try 25 different kinds of dosas! ID in Harrington Road is hosting a two-week long, and very special food fest, the ID Dosa Utsavam. Try everything from sweet Jackfruit, Palm Sugar & Coconut filled dosas to traditional dosas like Pattaani Masala (peas)and Nellore Erra Karam Dosas ( with spicy stuffing).
Who Is It For?
Every Chennaite, duh! But even if you're not from here and love south Indian brekkie, come on by. They even have healthy versions if you're on a diet. Try the Verkadalai, Ragi Rava and Kollu Podi but we're more excited to try the not-so-healthy avatars. Prices start at INR 99 and go up to INR 130. Not too pricey, we think, for the variety.
Why Should I Go For It?
Because dosa is bae. And you get to try so many varieties under one roof. Also they even a Spin The Wheel contest! If your bill comes up to INR 750, you get to spin the wheel and win exciting offers Buy 1 Get 1 dosa, coffee for 2 and many more! Ready for this?When : 11th July to 25th JulyWhere: 13/25, Harrington Rd, Chetpet, Chennai, Tamil Nadu 600031Price: INR 99 to INR 130Contact: +91 8056440088
Comments