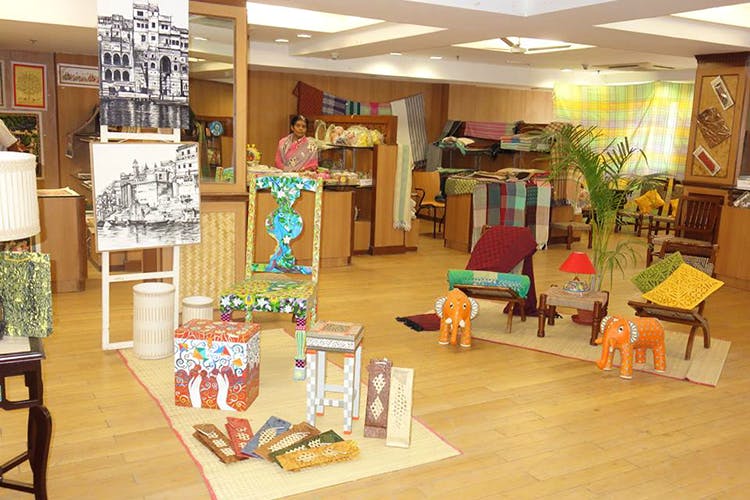 Find The Best Of Indian Handicrafts At These Legendary Stores In Chennai
Whether you're looking for intricate wood carvings or furniture or even colourful carpets and other fabrics, Chennai has everything you could want when it comes to handicrafts.
Victoria Technical Institute (VTI)
VTI was established in 1887 and has transformed to become one of the most popular stores in the city for handicrafts from Tamil Nadu. Their three floors of handicrafts are mostly made and crafted by artists from rural areas. Everything from Tanjore paintings and bronze figures from Kumbakonam to linens and rosewood carvings and brass lamps is available here.
Poompuhar
This Tamil Nadu government-promoted handicrafts store specialises in Golu dolls which are made from mud and during Navratras these dolls are put on display and worshipped. They also have bronze statues and stone sculptures, along with Tanjore paintings and exquisite woodcraft.
The Cottage Arts Emporium
Ask anyone in the city for a store that sells handicraft goods and this is where they will send you. For good reason too! Cottage Arts Emporium has more than just handicrafts from Tamil Nadu, they have sandalwood crafts from Karnataka, green stone figurines from Orissa and even articles from Ladakh on display. And if you're looking for brass or bronze work, this is one place you need to go.
Central Cottage Industries
Another Chennai staple is this Emporium in Nandanam. What makes CCI stand out is that they sell intricately carved furniture as well as wood carved elephants, horses and camels. They also have a section dedicated to fabrics and ready-made clothes for men and women. And moreover, they have colourful toys for children that also work wonderfully as souvenirs.
Srushti The Handicrafts Emporium
Quite possibly the youngest of the handicrafts stores in Chennai (having opened only in 2000), Srushti has a large collection of bronze and brass handicrafts as well as handicrafts made with semi-precious stones. Along with these, they also have various Tanjore paintings and what would really catch the attention of shoppers are the intricately carved wood panels with mythical creatures.
Cottage Industries Exposition Ltd.
Carpets are definitely one of the most popular handicraft product that people look for when they come to India and you can find colourful carpets and other fabrics at CIE, located in Nungambakkam. They also have white marble furniture and other crafted wood items from Rajasthan, but the entire ground floor is filled with just carpets and if that doesn't satisfy your shopping, we don't know what will!
The Museum Company
Another store popular for Kashmiri carpets, the Museum Company also has deities made from different materials like rosewood and sandalwood to name a few. They also have crafted silver items, semi-precious jewellery, and even pashmina shawls.
Cane & Bamboo
Quite well known in the city for souvenirs and gifts, Cane & Bamboo is also a very popular handicrafts store. They have bronze statues, rosewood carved elephants, leather products, wooden furniture and cane products to name a few. Also in the store, they have jewellery and various display items that are beautifully crafted by artisans in rehabilitation centers.
Kairali
Featuring the best of Kerala handicrafts, Kairali is an iconic store in Anna Salai. You can find everything from traditional lamps called nilavilakku to cedar wood carved idols, wooden boxes, bamboo paintings and coconut shell products here.
Artisan's
Another iconic store, Artisan's is loaded with handmade idols, statues, and bronze artefacts, all sourced from across the country. You can also find beautiful Tanjore paintings, shawls and silk carpets here.
Shiraz Arts
Set up in Spencer Plaza, Shiraz Arts has beautiful Kashmiri carpets, pashminas, and cashmere merch. The rosewood artefacts are also quite stunning. You can also find gorgeous marble stone showpieces and vases here along with silver jewellery with semi-precious stones and more here.
Souk
Featuring handpicked handicraft items, handpicked from across the country, Souk is another popular handicrafts store in the city. From teakwood items and gilded chests to antique Indian artefacts and carved wooden panels, you can find them all here. The furniture is also worth checking out because of its artistic appeal.
Comments