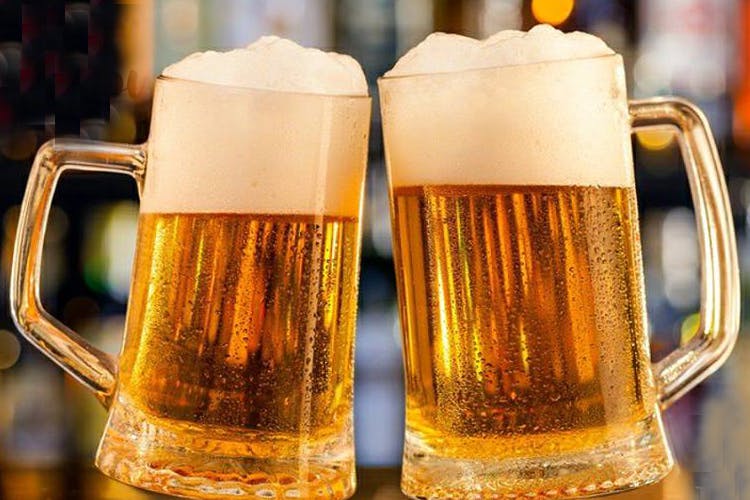 Unlimited Beer, World Cup Screenings & 1+1 Offers: This Pub Has Killer Deals All Week
Shortcut
Khader Nawaz Khan Road's popular bar/pub has great offers and bar deals through the week! Read on to know more.
Week Long Madness
Khader Nawaz Khan Road's popular pub INK 303, has a week full of great bar deals and solid discounts. We've already featured their crazy Saturday night INR 99 drink menu here and we were excited to learn that there's much more they've added since! Their Sunday brunch has been their biggest addition with a full new menu and list of cocktails and beers, all unlimited at around INR 1,000, which is amazing value for money in this city (Try their special iced coffee made from coffee liqueur!)
We're excited to check it out, so stay tuned to know what we think!. "Tuesday Bladder Blast" is for the beer drinkers, with an unlimited beer offer from 3pm to 10:30pm for just INR 799! (Do note that this applies to local beers only). Wednesdays are even crazier with their version of happy hours that they call "Happy Days", which is the best offer in Chennai we've seen so far, 1+1 on all alcohol for an entire day! Half priced Hoegaarden in Chennai? Yes please!
Wait, It Goes On
But wait, there's more! If you're a foodie who likes chicken wings and beer, on Thursdays for INR 1,000, you can get yourself a half kg of chicken wings and beer to go with it from 3pm to 9pm. If that sounds too unhealthy, not to worry there's a five course set meal with booze too for just INR 449 that features healthier options like fish steak, crunchy corn patties and grilled prawns. Oh and there's an optional drink too! (Runs on all weekdays.)
Ladies Night is on Thursday and there's a 1+1 on all drinks for women from 7pm onwards, which at this point almost seems plebeian.
Bonus offer alert! During their World Cup match screenings you can avail an unlimited food and drink package for your gang (price for this offer is available on request). We can't think of any other bar in Chennai that has this many offers and we love them for that.
For more about INK 303, click here.