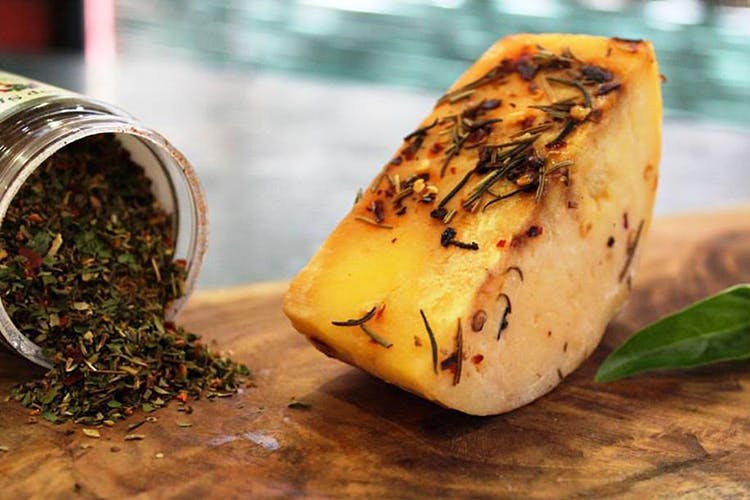 This City-Based Artisan Brand Is Making Gun Powder & Peppercorn Flavoured Cheeses
Shortcut
Gouda, cheddar or mozzarella — whatever your poison, Käse is your destination. Choose from a mind-boggling array of fresh handmade artisanal cheese, dips and dessert.
What Makes It Awesome
A refreshing change from the preservative-laden dairy you may be forced to buy for want of other options, Käse's cheese is "clean" and unprocessed, the fresh cheeses seasoned only with sea-salt and entirely free of emulsifiers and additives. Sourced responsibly from known vendors and grass-fed cows, these artisanal cheeses aim to dispel the myths that cheese is fatty and unhealthy and that aged cheese (like their gouda and cheddar) can only be an acquired taste.
Chennai's hot, humid weather proves particularly difficult for cheesemakers, but Käse has embraced the challenges; they ensure that the texture of the traditionally made cheeses is commendably authentic, but celebrate the unique flavour imparted to it by the city's climatic conditions and raw milk used in the process.
The "Ode to Chennai" cheese, for instance, is rubbed with milagai podi, promising a curious and successful mix of western and indigenous, local flavours. Try the Gouda aged with Sumac and Zatar rub for a mouthful of the Mediterranean. Or perhaps the cheddar with Malabar peppercorns or chilli and cumin is more suitable to your spice palette. There's also a selection of soft, spreadable cheeses, some pickled feta that's bound to tantalise the taste buds like nothing else, the favourite mozzarella for that pizza you plan to bake, or halloumi with sea salt and mint to go with a fresh watermelon salad.
Käse doesn't stop merely at this; there are desserts to try out (including a large selection of eggless cheesecakes and the very German quark with fruit and muesli), as well as soups, hors-d'oeuvres (ricotta gnocchi with herbs and brown butter sounds particularly compelling) and salads, all between INR 300 and 450. Dips are priced between INR 350 and 450 for 350 grams, and relishes – do try the ash gourd and ginger – at INR 400 for 350 grams.

Pro-Tip
Käse also conducts monthly cheese tastings and cheesemaking lessons. And finally, if you're hosting a soiree for friends or family, Käseeven customises platters of cheese based on the drinks to be served.