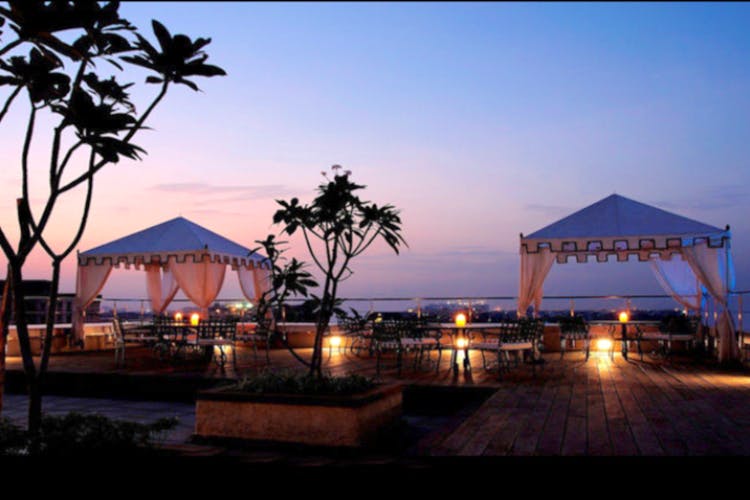 This Gorgeous Mediterranean Theme Spot Is Perfect For A Romantic Date With Bae
Shortcut
If you're dreaming of a vacay in the Greek Isles, here's something that may help. Kefi at the Taj Club House offers Mediterranean fare and a breathtaking view of the city quite unlike any other.
What Makes It Awesome
Pamper your date with a luxurious dining experience at the Taj Club House at Thousand Lights, Anna Salai. You can either choose to sit indoors and soak in the rustic ambience or if the weather is nice, we recommend having a meal on the rooftop (right next to the pool) and a view worth gasping over. The best time to arrange a date would be to land up there and watch the sun go down for the day with bae of course.
This makes for a breathtaking view. Coming to the food, the vibe here is definitely Mediterranean with flavours across Greece, Spain, Morocco, Turkey and Lebanon making it onto your plate. Choose from appetisers like Dijaj Cigar — phyllo pastry stuffed with chicken, mushroom and garlic or Hilopites — cinammon and garlic flavoured tenderloin patties. Vegetarian couples, you can opt for Hummus Beiruti, Falafel or Kalem Boregi (deep fried rolls with feta, halloumi, parsley and spices). Try the choice of Tagine with chicken or lamb served with cous cous, the Charcoal Grills, grilled veggies and meat cubes marinated in spices, and the Manakeesh, flatbreads topped with cheese or meat.
You can opt for a candlelight dinner. They offer packages with a three-course or five-course menu along with two glasses of wine (complimentary). They'll even arrange a cake with a special message and a flower arrangement on the table. The best part? You'll get a table under the cabana with a gorgeous view of the skyline – the best seat in the house! A meal for two costs about INR 3,600, yes that's a bit steep, but for the luxurious ambience and the variety of dishes on offer, we think it's absolutely worth it
End the night on a sweet note — try the Baklava or Kunafe. There's also Jubn Zabaadi Gatooh that's a Greek yoghurt cheesecake with poached figs. Perfect for sharing and yum too!
Comments