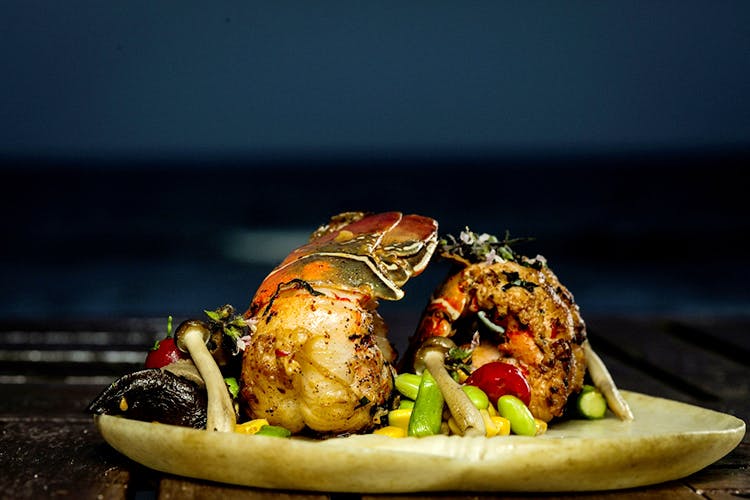 We Found Tropical Paradise At This Tiki Bar & You Must Go Pronto
Shortcut
InterContinental Chennai, a gorgeous resort in Mahabs, now has a Tiki bar and shack KoKoMmo (inspired by the song of the same name by the Beach Boys) that we are absolutely in love with. Come here for the beach views, salty breeze, good old-school music, and fantastic food & cocktails.
What Makes It Awesome
After you're done gasping at how beautiful the resort is, head onto the ground floor and make your way to the cool shack on the beach. We suggest wearing flip flops and breezy dresses, cotton tees or shorts because the vibe here is super chilled out and let's face it, that's just better for Chennai weather.
Surprisingly it's quite cool and breezy during the evenings (albeit slightly sultry) and we advise coming here just in time for sunset – it is absolutely picturesque. Tuck your toes into the sand and get a view of the beach while you listen to tracks from the 60s to the 80s. And trust us, you'd probably end up staying here for hours (like we did!). Thankfully the place is open from 5pm till midnight and you'll be mesmerised by both the sunset views and the late night sky brimming with stars. Just beautiful! We think it's the perfect place to go to with bae (super romantic at night, peeps) but you can also come here with your girl squad or even with the fam for a special night out.
Moving onto the food and drinks, Chef Indrashis Saha has done a great job with the menu, marrying Indian ingredients with Continental techniques of cooking to produce really flavourful "glocal" dishes. We started off with Root And Shoot Vegetable chips that included lotus stem too served in a conch. You can't stop with just one! Top marks for presentation and flavours for this one; this pretty much set up the pace for the rest of the evening.
We loved the grilled lobster (garlic Thai basil) and succulent prawn (harissa) dishes – full of juicy fresh seafood bursting with flavours. The Pork Ribs with a Thai spice had meat so tender, it just fell off the bone oh-so-easily. Vegetarians we recommend trying the Yoghurt Mustard Grilled Brocc, broccoli served with a tantalising mustard marinade – simply scrumptious! For mains there's rice, chicken curry, lamb and parathas which were good but we were more impressed with the appetisers.
The cocktails we tried were mostly sweet and not too strong. We'd recommend the Ginger & Curry Leaf Martini infused with curry leaves and ginger if you want to experiment with Indian flavours or the beer mojito or the fruity Malibu Sunset to sip on to keep you cool.
We absolutely recommend coming here the next time you plan a date or a night out with friends… and the drive to Mahabs makes it all the more fun!
More Information
Kokommo - Inter Continental
Comments