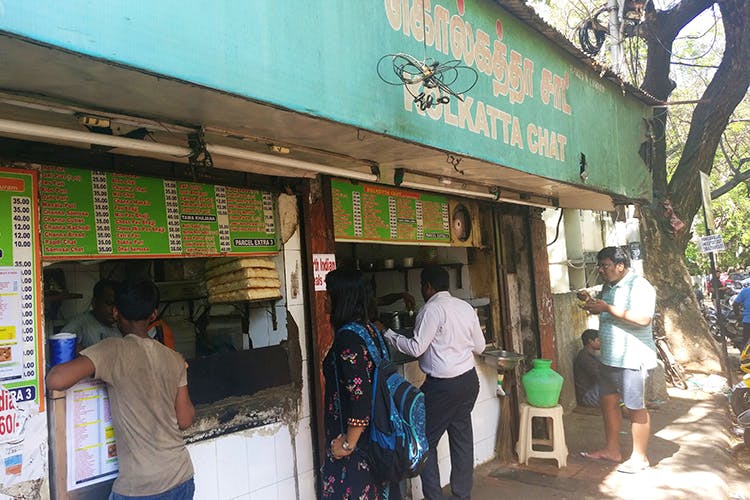 Head To This Chaat Shop In Alwarpet For Tasty Pav Bhaji & Fluffy Aloo Parathas Starting At Just INR 40
Shortcut
Super tasty chaat items and street food served fresh and hot all day, every day at Kolkatta chaat shop in Alwarpet
What Makes It Awesome
No doubt most of you may have heard of the famous Alwarpet Juice World, the juice shop that attracts customers from far and wide all year round. But have you been to its neighbour, Kolkatta Chat that's been around for 18 years! They don't have a large menu, but what they do serve is just plain amazing. The first thing we did was just ask them what the most popular items on the menu were, and after a slightly puzzled look from their staff, we were told to order the sukha puri and the cheese mix pav bhaji.
The pav bhaji came to us hot and spicy and was hard to put down, unlike most chaat shops, these guys put the bhaji on to the pav and so you don't have to get your hands dirty to eat it, all you need is a spoon. Within a few short minutes, we were down a plate of the cheese mix pav bhaji and were ready to tuck into the sukha puri. Basically dry pani puri, the sukha puri has all the accouterments that come with the regular pani puri sans the pani. What's left was a crunchy mouthful of savoury goodness. Fed to the brim, we paid our bill of INR 80 and washed the chaat down with a nice tall glass of refreshing lime juice from Juice World.
Kolkatta Chat is open seven days a week and draws crowds late into the night. The best times to visit them are during the afternoons as there's not too many people and the roads aren't too crowded to park on. All in all, Kolkatta Chat is a solid choice if you're looking for tasty affordable chaat, and the fact that there's Juice World just next door makes it even better.

What Could Be Better
Also, you must know that there is no seating space so you'll have to stand and enjoy your chaat.

Comments