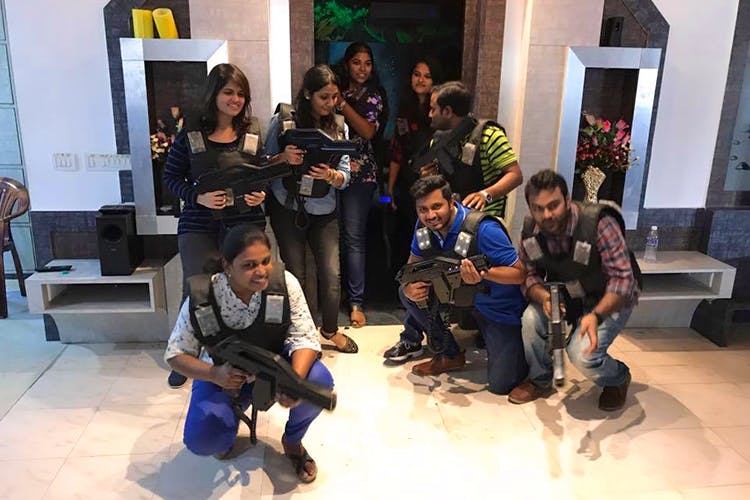 Round Up Your Crew And Play Laser Tag At These Places In Town
For some it is a stress buster, to others, it is just a pathway to enter the alien world. Laser tag is all fun and namma Chennai has several arenas where you can engage in a game. So what are you waiting for? Start making plans with your gang, aim, shoot and have a blast!

Game On
Anna Nagar's only indoor laser tag facility, this place has an Avatar-themed arena, which will make you feel like you're in Pandora! For 15 minutes of laser tag, they charge INR 250, and for half hour, it is INR 400. You'll need a minimum of three people, and a maximum of 13 in total. With advanced equipment, especially a pro-gun which tells you your scores, eyes on the prize, y'all! Equipment is provided, so just bring your enthusiasm! On weekdays, you can walk in, but on weekends, prior booking is required.
Asgard Entertainment
Maze-like arena with the black lights, smoke effects, and up-tempo game sounds, this place promises you the complete experience. The Vest and Phaser are equipped with built-in sensors on the front, shoulders, and back. So, each time a sensor is hit, it vibrates and gets recorded and transmitted real-time to the score screen. The minimum requirement is three players and the maximum is ten. For 15 min, they charge INR 295. They have a 1+1 package where 8-10 people can play one hour of laser tag and get the next hour free for INR 4,000. So, that would work out to INR 500 per person for two whole hours of gaming, let's go!

Chaos Entertainment
Popular among Chennaites, this place has eight modes for gamers to choose from and can house a maximum of 15 people. They also have the stealth mode, where the power is cut towards the end of the game to make the experience more intense. They have happy hours on weekdays from 12pm to 4pm where you pay INR 200 for 20 minutes as opposed to INR 250 for the same duration otherwise.

G Sector
Spanning across 1,900 sq ft, this gaming arena has a Star Wars theme - R2D2 and droid illustrations, which 3-10 people can enjoy. You can play individual matches or team battles. This place doesn't have VR, but feel free to let your imagination take over. They charge INR 250 per person for 15 minutes and INR 500 per person for a 30-minute match.

Comments