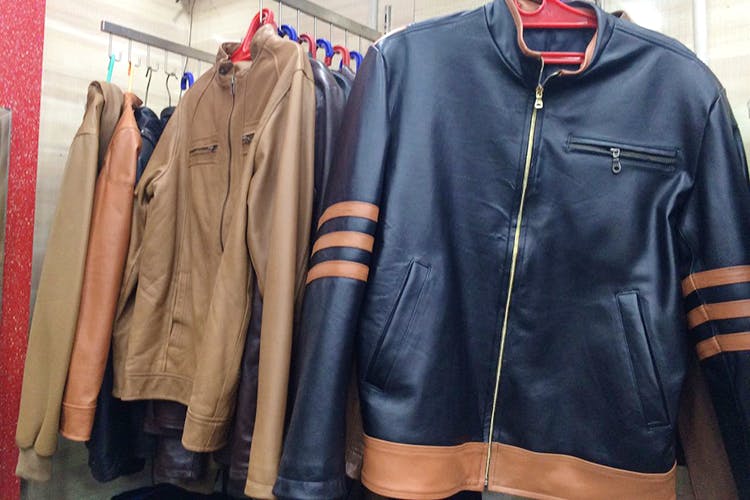 We Found This Budget Leather Goods Paradise Close To Chennai And You Have To Visit Now
Shortcut
Vepery High Road in Periyamet, north of Chennai, is a shopping street dedicated to leather jackets, shoes and all kinds of accessories — at a fraction of the cost. 
What Makes It Awesome
Near the Moore Market and Jawaharlal Nehru Stadium lies Vepery High Road, a street which has developed into an export surplus hub over the years. Leather goods like shoes, jackets, wallets, and bags make their way here from other leather manufacturing hubs like Ambur and Ranipet to be sent to the Chennai port for export. This street has over 50 shops with products belonging to various brands, and you can find all kinds of sizes and types.
Most of the products on sale are export surplus goods. There are high-end shops which manufacture their own shoes, jackets, and wallets. However, many of the showrooms sell surplus branded products which range from Aldo shoes to Tommy Hilfiger jackets. Although not all products are branded, most of the wares sold here are of high quality, as these products are meant to be exported.
And what did we find here? We found shoes which would suit all occasions — be it causal loafers, formal shoes for office goers, party shoes and even casual footwear. In the wallets and handbag sections, the products could range according to your budget. This is the same with jackets too. We found Aldo Shoes worth INR 4,000 for a mere INR 1,500, a Louis Philippe shoe with a tag which read as INR 4,999 at INR 1,200 and a Diesel leather jacket at INR 5,000.
If you have a smaller budget but still want to be on trend, worry not, because this street has many stores which manufacture local versions of international trends. You can also talk to the dealer to customise a shoe for you, in case you have specific preferences. Remember to bargain, as none of these showrooms have fixed prices.
While export surplus stores are really great places to find those one-of-a-kind outfits and also your favourite high street brands, but it all depends on stocks received, so you may or may not be in luck every time you visit. Also, we do not vouch for the authenticity and quality of products.
Comments