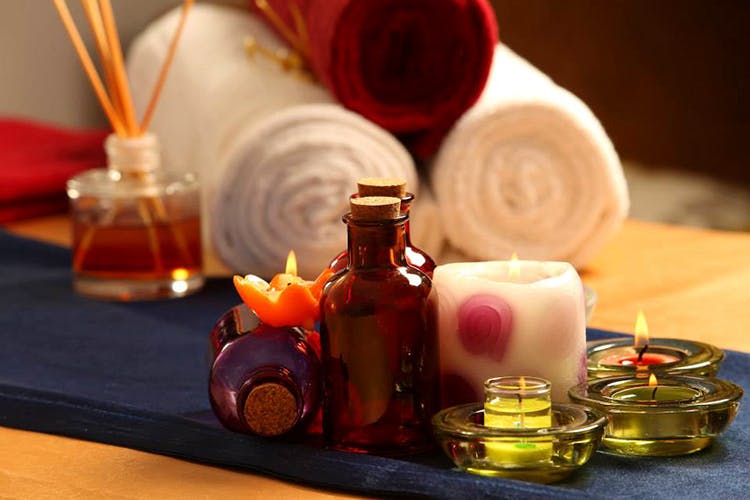 Book Now: Luxurious Spa Sessions For You & Bae To De-Stress Before The Big Day
You've been running around planning the perfect day for you and your bae and now, days before the big day, you deserve a little break. Let everybody handle all the work for you, and you can take some time off to just relax, rest a little and get pampered in the best way possible. And our guide is going to help you find the best spa sessions that you and your better half can truly enjoy together.
River Day Spa
They've got three amazing couples spa sessions for you to choose from and all three get you a one hour massage, with additional perks depending on what you select. The River Blissful (INR 14,000 for 4 hours) has two massage sessions, a body scrub, a facial and a surprise gift for the couple. The River Ecstasy (INR 9,500 for 140 minutes) has a couples massage session, a body scrub and a surprise gift. While the River Re-Connect has only a one hour massage session and a surprise gift.
Manthra Bali Spa
Get the royal Bali treatment at Manthra for you and your better half and enjoy uniquely designed spa treatments to relax your body and mind. They have two couples packages, both priced at INR 11,000 for 90 minutes each. The first package comes with Aromatherapy and Ear Candle, while the second comes with Aromatherapy and a Face Massage for both of you.
Oryza Day Spa
This is a popular spa in the city and their reputation for delivering the best kind of massage therapies is well-known as well. They have a few couples therapies that you can indulge in, one of which are the Organic Body Ritual (INR 7,000) which is a massage using organic products that are perfect for all skins. It starts with deep exfoliation and concludes with a body massage. There's also the Aromasoul Volcanic Scrub (INR 7,000) which is a revitalising body scrub that is inspired by different massage techniques.
Ayatana The Wellness Spa
What you need after all the stress of planning the perfect wedding is definitely a chance to escape into another world and Ayatana promises an experience to just let yourself relax and take a break from everything.
While they have special massage therapies for the both of you individually, they also have a Couple Indulgence (INR 12,000 for 6 hours) which includes a body massage, foot massage, facial scrub, warp and a bath soak. This is truly an indulgence that will do just the trick after months of running around and making sure everything is just right.
Willows Spa
They offer a wide range of massages and you can choose from any of them for your couples massage. They have a Balinese massage, Aromatherapy, Deep Tissue massage, Thai Dry massage, Swedish massage and a Hot Stone massage to choose from. Depending on the duration of your massage, the prices also vary. For 60 minutes it is INR 5,000, for 75 minutes it is INR 6,000 and for 90 minutes it is INR 7,000.
Thai Sabai Wellness Spa
Thai massages are quite elaborate and they have a list of different massage therapies that you can choose from. From the traditional therapies which is integrated with yoga to the basic Aromatherapy type. And for couples, they have all these therapies on offer as well.
You can choose from the Thai Aroma (INR 4,000 for 60 minutes, INR 5,800 for 90 minutes & INR 7,000 for 120 minutes), the Balinese Massage which combines reflexology and acupressure into your therapy and the Jim Baran.
Comments