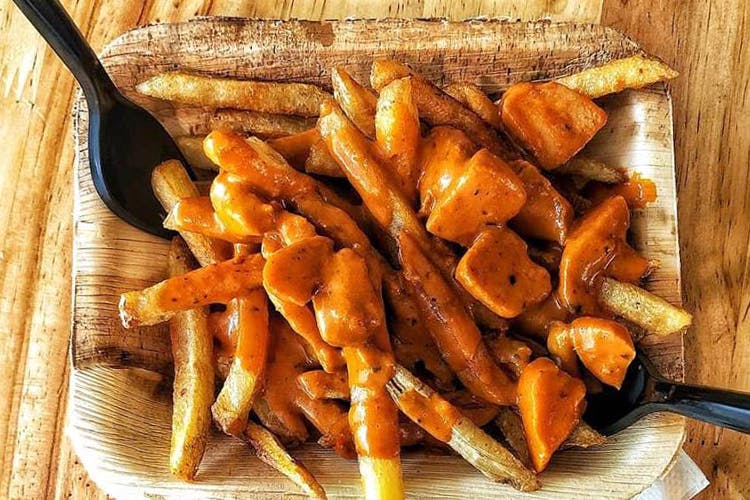 DIY, Cheesy Or Butter Chicken? Get Your Fries Starting At Just INR 49 At This Kiosk
Shortcut
We just discovered Chennai's latest kiosk that gives a break to classic fries and serves them with a twist. Mad Fries is in Chennai, starting at just INR 49.
What Makes It Awesome
You heard that right. Mad Fries has flavours more than just one and it is definitely mad in there. Located in multiple places across the city, Mad Fries has everything from Classic Fries to Seafood Fries and Chicken Mania. They also have a 'Make Your Own Fries' option where you could choose various toppings and lip-smacking sauces with your favourite potato snack.
We, of course, began the binge with a set of Cheesy Fries, because who can resist that? While it turned out to be pretty good, what caught our attention was the Fish and Chicken toppings. If you're craving for some Fish & Chips, then Mad Fries is probably the latest place to put an end to those cravings. Their Chicken toppings too were quite interesting(they included sausage toppings too!)
We really liked making our own fries too. Quite like your own sub, we chose plenty of onions and jalapenos to go with our fries. But the real delight were the sauces. Our recommendation would be the Haryali Tikka, American BBQ and Olive & Herbs sauce. These are the yummy ones, not too sweet or spicy and goes well with the fries. You could also try the popularly recommended Malai Tikka, in case you're looking for something more desi with your fries.
Their latest addition – the Butter Chicken Fries has been trending among foodies. Said to be served with the creamy gravy and chunks of chicken, these fries are quite a hit among the junkies, so you don't want to miss this. All of their fries and other delicacies like Wafer Shakes and Wraps cost below INR 200. So it's budget too!
Comments