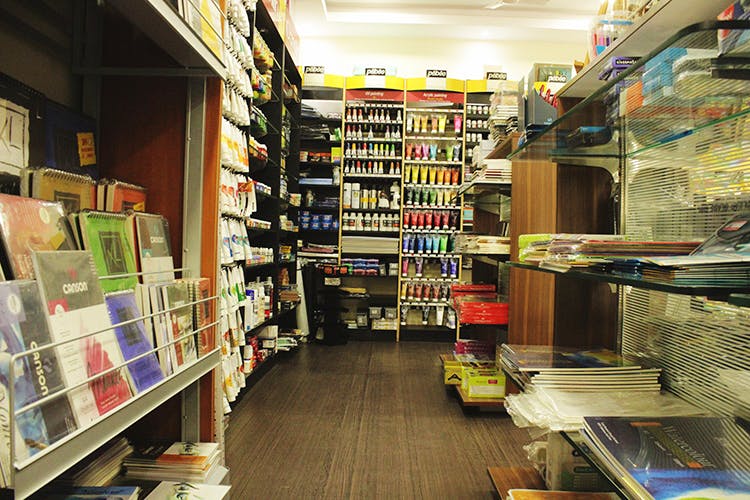 Stationery Hoarders, You Need To Check Out This Dreamy Art Store In Alwarpet
Shortcut
The Madras Art Store (MAS) in bustling Alwarpet is an extension of the iconic Hindustan Trading Company (HTC). Started in 2016, it is the new destination for artists, hobbyists, students and children. Expect imported paint supplies, stationery, wax crayons and much more. 
What Makes It Awesome
If you've lived in Chennai long enough, chances are you've visited HTC at some point or the other. Known for its incredibly diverse range of art supplies, HTC is one of the city's landmark art stores, the Mecca for all things art-related, and frequented not only by students and hobby artists, but instructors and world-renowned professionals.
The loyal clientele has included the late MF Husain, and Thota Tharani, Yusuf Arakkal, and SG Vasudev. Considering the 1974-founded store is showing no signs of wear and continues to be the automatic choice for all artists, it may now be time to turn the spotlight on its offspring, its newest unit, Madras Art Store, started in early 2016, and slowly gaining in popularity and name.
What is the Madras Art Store, then? The young proprietor, Amritha Venketakrishnan, in an attempt to straddle the taking forward of her family legacy with the challenging task of having a business identity of her own, admits to wanting to start a smaller concept store more accessible to people outside the parent store's clientele. MAS, with its stylish, minimal black-and-white board beckons to you from the Alwarpet flyover and targets a different audience from HTC.
The store is geared towards beginners and hobbyists rather than professionals. This is ensured by the careful curation of supplies. This helps beginners make choices more easily instead of intimidating them with an impressive array of supplies. Whether you want paints of different types, brushes, canvas or wood sheets, easels or modelling paste, or even a students' art book, you won't be disappointed. We are especially tripping over their Paper & pads section which comprises art paper rolls, sketchbooks, art pads, and colourful craft paper.
Comments