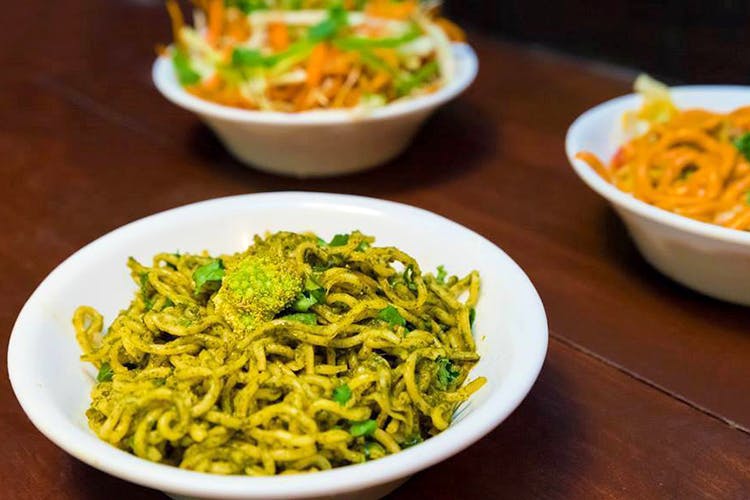 Schezwan & Butter Masala: We Found Maggi Paradise In Kodambakkam With Over 35 Versions
Shortcut
Maggi lovers! Head to Maggevala if you're looking for your fave comfort food, with a twist.
What Makes It Awesome
Vadodara's Maggi paradise is now in Chennai and we love it! From Maggi pizzas to pastas, this Kodambakkam restaurant offers a whole lot of Maggi with a twist.
To begin with, their Chilli Cheese Maggi and Schezwan Maggi are a must try because it's our favourite Maggi noodles tossed with tangy sauces, herbs and a lot of melted cheese. Yum! But the actual surprise from their menu is the Maggi Pizza and Bruschetta. Yes, we were wondering how this one would turn out to be! The result? Our regular pizza and even tikkies are jazzed up with crispy bits of Maggi – perfect as a satisfying snacking with the gang.
If you're a fan of the Alfredo sauce and are looking for some pasta flavours, then the Italiano Maggi is the one for you. While the small little cafe boosts around 35 Maggi dishes (including additions like lemon butter, broccoli, and Indian tadka), we would recommend you to try out their Butter Masala Maggi (spices and melted butter – is there a better combo?) and pair it with a hot cuppa Hot Chocolate. Yep, it's not just Maggi. Try their Cappuccino, Coffee with ice cream and Mochaccino. For those of you looking for some thick shakes, try out their Kit Kat, Oreo, Ferrero Rocher shakes, among other beverages.
Now, if you are one of those rare people who doesn't enjoy Maggi, Maggevala has something for you too. Try their Monacco Chaat topped with cheese, tangy sauce and veggies. If you loved Monacco biscuits and Maggi as a kid – this place is going to be wonderland!