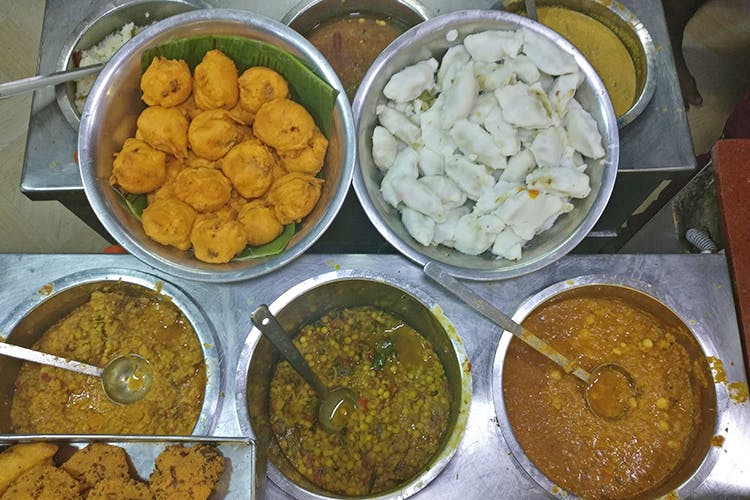 This 23-Year-Old "Tiffen" Stall In Mylapore Serves Yummy Kozhukattais & Rasam Sadham
Shortcut
One of Mylapore's oldest eateries (started in 1959!), nestled in a tiny street next to the temple, serves mouthwatering South Indian veg food you'd definitely want to try.
What Makes It Awesome
The first thing to note is that while Mami's Tiffen Stall was an actual stall before, it's now more of a mess/restaurant. The seating area is minimal and is mostly reserved for the elderly and standing tables are placed along the walls to go with the self-service model of the restaurant. In addition to that, the restaurant is kept spick and span at all times. The focus on functionality coupled with its immaculate cleanliness truly drives home the feeling that Mami's Tiffen Stall does what it does very well.
The menu much like any other veg south Indian eatery features the usual suspects; Dosai (INR 35), Onion Uttapam (INR 50), Mini Idly (INR 45) and so on. Years of experience have made the cooks very good at the usual preparations and they make them very fast too, yummy dosas take 30 seconds flat to get from the pan to your plate. In addition to the staples, they've come up with their own specialties too, like 18 different types of pre-mixed rice, and an additional extra type of 'rice of the day'. The spinach rice (INR 38) with fryums is highly favoured and so is the beetroot rice. They also have a daily 'sweet of the day' (seven different varieties!) that features fan favourites like kozhukattais (both sweet and savoury, both yum) and Carrot Halwa. Even though it opens for breakfast at 7am every day, the rice and other "tiffen" items are only available post 11am. They take an afternoon break post 1pm and reopen at 4pm till 10.30pm. The friendly staff is what make Mami's Tiffen Stall what it is and their exemplary service is always done with a smile.

Comments