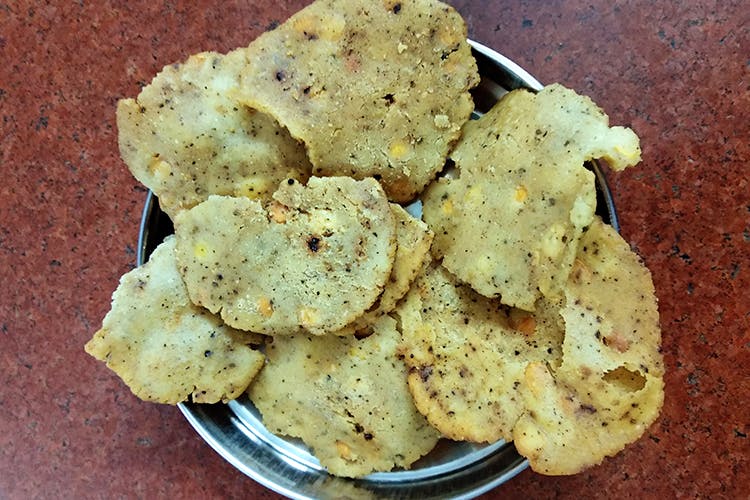 Appalam, Vadam, Bakshanam: These Maamis Will Make Your Day With Their Snacks
Appalam, vadam, vathal, pickles, and special savories, these mamis will make all of these for you. Traditional snacks are a big part of Chennai and what better than edible, home-made delights with lots of ghee and love? Here are some popular mamis in the city who make traditional South Indian snacks and deliver it at your doorstep. Kitchen work just got easier, huh?
Jeyalakshmi Mami
Omapudi, ribbon pakoda, kuchi, tomato, ellam are just a few varieties of vadam that Jeyalakshmi mami makes. Devouring sambar rice with fried vadam and appalam is a feeling every true blue Chennaite knows too well. She has more than 80 varieties of products like pickles, papad, savouries, and more. Think appalam - she has plain, molagu and rettai. Her bakshanam (savories) list includes uppu seedai, vellai seedai, and kai murukku. Pre-order to get your packet on time. She sells these savories for a kilo for INR 400.
Anandhi mami
Masala, rice, tapioca, tandoori, Kerala, and plain, Anandhi mami at Valasaravakkam makes all these six varieties of appalams at home. Vadams, vathal, pickles, rice mix, podi, Anandhi mami makes all these products at home and delivers at the address you provide. You can choose from butter chili vathal, sundaikkai vathal, manathakkali vathal and chukangai vathal. Mind blowing, right? She also sells her products under the name Sri Kamakshi and has her own website called Abirami Foods.

Lata mami
Lata mami works out of RA Puram and has a special list of bakshanam that she makes on a regular basis. Starting with murukku, thattai, somasi, thenkuzhal, uppu and vellai seedai, adhirasam and appam. Buy as per kilo and it will cost INR 400. Coming to her appalam, she sells ulundhu and rice applaam. Onion, omapudi, ribbon pakoda and tomato vadam. A bonusis you can buy their kozhambu karudam to spice up your sambar.

Sweet Karam Coffee
An e-commerce website that sells homemade coffee, vadams, appalams, jams, honey, pickles, savories, butter, and ghee. Who is the mami behind this enterprise? It is mama B Venkatakrishnan, who started this e-commerce website in 2015 and sources various products from mamis around the city. The suppliers are all mamis who make these savories at home and deliver it to Sweet Karam Coffee, who then do a quality check and deliver it at your door step. Check out their list of savories that includes 400 gms of seedai (INR 299), kai murukku (INR 299), manoharam (INR 369), kadalai urundai (INR 339), kara boondhi (INR 259), omapudi (INR 259), ribbon pakoda (INR 259), and Madras mixture (INR 299).
Comments