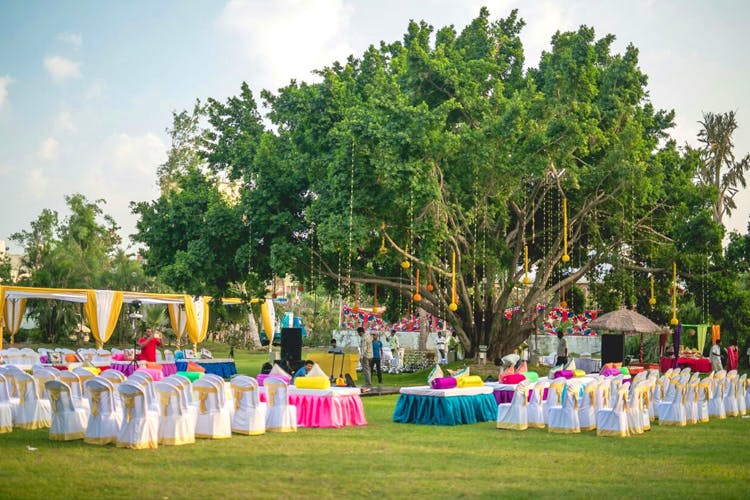 Luxurious Beach Weddings To Intimate Private Ceremonies: Best Marriage Halls In Chennai
Scooping out places to get married? We've got you covered with a list of seven popular marriage halls in the city, some mainstream and some a little offbeat.
Luz House
Starting things super small (150 people) and cosy, Luz House in Mylapore is a 250-year-old colonial bungalow that's very pretty. The space has been a mainstay in Tamil cinema and has been used in big budget films like Padayappa. OK Kanmani and others. It's a large central house surrounded by massive lawns, which can be done up to suit your needs, thanks to their design team. It's recently been opened for public use and it's been immensely popular as an event venue. Pricing details are available on inquiry. Read more here.
AVM Rajeswari Kalyana Mandapam
If small and cosy isn't for you, why not pull out all the stops for another Tamil Cinema born marriage hall in town that's a little bit bigger. Okay a lot bigger, AVM Rajeswari is a 900 seater marriage hall located in Mylapore, that's a go-to for the who's who in town. The premium location, size, and amenities (parking, dining, central air conditioning, etc) add up to a fat INR 7.5L per day (not including taxes at the time of this publication). Built buy AVM film studio's founder, AV Meyappan, the cinema hall has an interesting addition, it is peppered with vintage Tamil movie memorabilia and posters.
EVP Rajeswari Marriage Palace
Moving away from the Tamil cinema connection, EVP Rajeswari Marriage Palace is a little more affordable than the AVM marriage hall and a bit bigger. The 1,500-seater marriage hall has all the bells and whistles of a premium marriage hall like central air-conditioning, massive dining area, ample car parking space, etc. Yet it comes in at half the price: INR 4L (all inclusive at the time of this publication) for their T Nagar location. Which is the best part; they have multiple venues across the city, all just as deluxe.
SPP Gardens
If your heart is set on outdoor weddings, then SPP Gardens is your best bet in Chennai. The 14-acre lush green space, four kilometers from Anna Nagar is super popular for weddings. While the space is there for more, the venue is functional to a capacity of 3000 guests and can be customised for groups of different sizes. Looking for a smallish ceremony, they've got beautiful nestled groves for just that, if you want large scale then there's space for that too. Prices for a day start at INR 4.5L plus taxes (at the time of this publication). With that, you also get two complimentary rooms to use, along with the lawn.
Em El Em Kalyana Mandapam
Em El Em Kalyana Mandapam is a long-standing marriage hall in Nungambakkam that's almost always in demand. What is actually two separate marriage halls, a 1,100-seater and a smaller hall for 350 people, Em El Em is often picked for that reason. It's great for small intimate functions and allows you the flexibility to host large and grand functions as well thanks to the bigger hall. Amenities wise, there's everything from central air-conditioning to ample car parking space. Prices start at INR 6L for two days (excluding tax at the time of this publication) and come with 10 rooms to use.
Vivanta Fisherman's Cove
Speaking of popular venues, we'd be remiss not to mention a place for a beach wedding in Chennai. This fairytale spot on ECR is maintained by the Taj Group and all weddings here are five-star events. Known for their hospitality, their team aims to go over and above to serve all their clients and everything from food to event logistics. So much so that they're often the location of pre-wedding events like photo shoots as well. Pricing details are available on inquiry.
Dakshinachitra
This last entry is for the couple searching for a purely traditional wedding that embraces Tamil heritage. Dakshinachitra is a cultural hub on ECR that showcases local tradition in a variety of fields like art, dance and even architecture. To that end, all weddings here, have ready access to enjoyable folk performances, art displays and classical handicrafts that guests will enjoy. What's more, venue costs here are negligible as it's a little offbeat, so that's another nice upside. Pricing and other details are available upon inquiry.
Comments