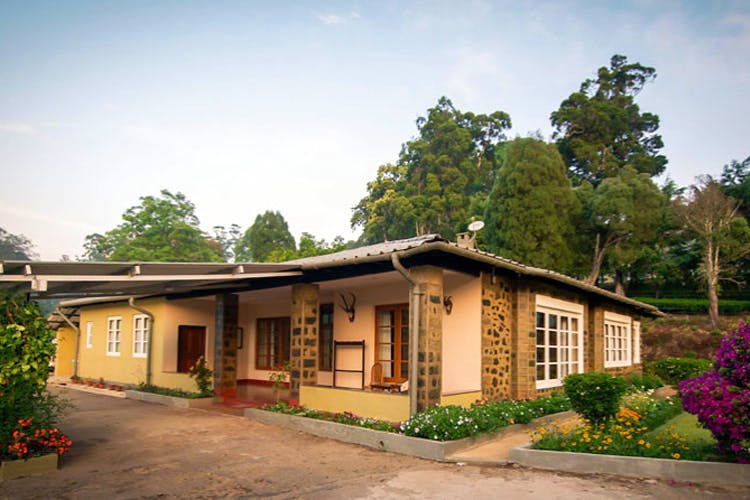 Check Into These Tea Bungalows To Experience The Best Of Meghamalai
Jet set to the hill station of Meghamalai and stay at one of these three, gorgeous hillside bungalows by Briar Tea Bungalows. Plus, the lakeside view is to die for.
Hillside Haven
Meghamalai is Tamil for cloud covered hills, an apt name for this little heaven on earth, situated on the Western Ghats. An approximately eight-hour drive from Chennai, Meghamalai is known for its flora and fauna.
The neighbouring Periyar Tiger Reserve is home to tigers, elephants, hornbills and a host of other interesting wildlife species. And a short drive away from this reserve lies not one but three gorgeous tea bungalows called the Briar Tea Bungalows.
Bungalows By The lake
The bungalows themselves resemble cosy English countryside homes. Decor wise the houses are quite spartan, with just a few paintings and plain light fixtures. Size wise the Cloud Mountain Bungalow is the largest, with its three bedrooms (bathrooms attached), large living room, dining area, and a small library. The other two, Manallar and Sand River Cottage are slightly smaller, both with two bedrooms, a living room and a dining room.
The properties overlook the nearby lake, which coupled with the sprawling hills and beautiful tea estates make for amazing walks and your Insta game to be on fleek. There's also staff present at the three properties to provide your daily meals, (so why not have a picnic on their beautiful lawn!).
Special Trip
Cloud Mountain Bungalow is your only option if its a group larger than four or five, the smaller two cottages have more of a small group (maybe even romantic) getaway kinda feel. We're biased towards the Cloud Mountain Bungalow as its on a hillside and is closest to the lake, giving it the best views.
Additionally, getting there without your own transport can be tricky as the roads aren't always the best. So we'd recommend that you save this gem for a long weekend or a special occasion.
Comments