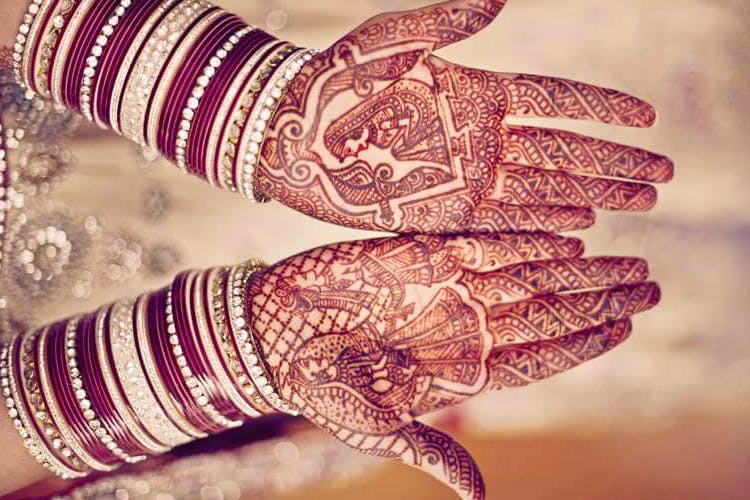 Brides-To-Be, Here Are 6 Mehendi Artists In Chennai To Hire For Your Wedding
December is almost here and while it's a great time to celebrate the holidays, it's also a great time to prep for weddings. Get pretty works of art painted on your palms and feet courtesy these awesome artists in the city.
Manisha Bridal Mehendi
Manisha Modi has been in the mehendi business for years and can do different varieties including Bombay style, Arabic, Jardosi, Hiramoti and so much more. She even makes her own mehendi, as most of these designers do and you can be assured that the henna she uses is 100 percent pure and will not harm the skin. And for those who are looking to learn how to do mehendi, she even offers workshops and classes.
Price: On request
Contact: +91 9444035883
Visit her website for more information
Neharika's Bridal Mehendi Designer
It's always such a treat to see beautiful and intricate work done with mehendi and that's exactly what this group offers. They have different styles and will do mehendi beyond just the wrist for brides, including subtly adding the initials of the groom into the detailed artwork to add a little extra something to the service. They also offer mehendi for grooms and while not as elaborate as what they do for brides, it is still quite beautiful.
Price: INR 1,000 onwards, the price also depends on the design and the amount of the arms or legs that is covered
Contact: +91 9345690575
Visit their Facebook page for more information.
Vijaya Bridal Mehndi Artist Chennai
One of the most important things to keep in mind when using mehendi is making sure that it's of good quality and doesn't have any harmful ingredients. With this company, you can be assured of homemade mehendi and elaborate designs of your choosing. Having been doing this for almost 12 years now, you are guaranteed someone with experience and design ideas that will be unique and interesting. What more could a bride want?
Price: INR 3,500 onwards
Contact: +91 9840718093
Srity Mehendi Artist
Simple or intricate, you can find the designs that suit your personality and style from the ones that have been done before. And even the simple designs are eye-catching. Inspired by different styles over the years, you are sure to find the perfect design for your wedding.
Price: INR 2,000 onwards
Contact: +91 9380521591
Shingar Mehendi Artist
If you're looking for something new and refreshing and something completely different from everyone else, then Shingar is where you need to go. Not only do they have bridal work, they have Indian style mehendi which includes birds and tropical plants, but more importantly they do coloured mehendi, which is quite rare in the city. With 11 years of experience, there's a team that will deliver the best designs you can find anywhere.
Price: INR 5,000 to INR 12,000
Contact: 9840574443
Visit their website to see all their services and details
Ayisha Mehendi
The Indian style of mehendi is quite popular simply because it portrays animals, plants and traditional Indian elements that make for beautiful artwork. And Ayisha does just that, with a lot more to offer. And it's not all the same, if you're looking for something unique, she will be more than happy to design something special just for you, making sure that you have the best style for your wedding.
Price: INR 4,000 onwards
Contact: +91 9840029664
Comments