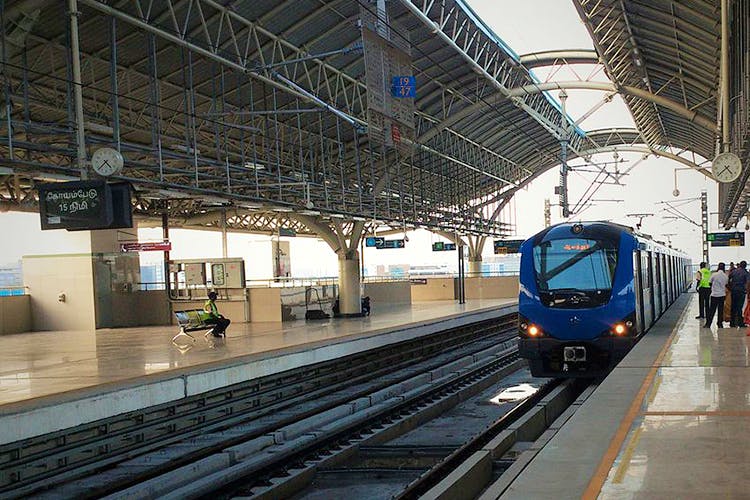 5 Daily Metro Commuters Tells Us How To Make Your Metro Rides Smoother
Chennai makkal are loving the Chennai Metro Rail Limited (CMRL) and it seems like a breath of fresh air from the MRTS trains. The metro is clean, prompt, and is not as crowded as the MRTS stations. The metro service begins at 6am and ends at 10pm. However, the Chennai Metro has been dabbling with a few signal system issues and the rush hour can be pretty unpleasant, too. So, here is some advice from frequent Metro travellers about how to make your ride breezy.
Travel Card Vs Trip Card: Choose wisely
Arvind Prasanna, a journalist, lives near Retteri and travels to the city every day. If you're a frequent traveller, you can get a Travel Card, which gives you a 10 percent discount on rides, he says. It works just like a pre-paid mobile. You can top it up with cash or credit card, and once you deposit a minimum of INR 50, it's valid for up to one year from the last top-up. The maximum top-up amount is INR 2,000. If you take the same route every day and are looking for a cheaper option, get the Trip Card. It's valid for 50 rides per month and will get you a 20 percent discount. You can get this card for even 7 days (12 trips) or 60 days (100 trips), he says.
Check Your Track On The Map
Kala Swamy, a software engineer, travels from Meenambakkam and says for first-time travellers, it's easy to lose the way, especially when there's a switch of stations involved. Kala suggests looking at information display boards near ticket counters to check routes before boarding trains. The Koyambedu to St. Thomas Mount route is highlighted in 'green' while the route from Little Mount to Chennai Airport is in 'blue'. This display board is also available inside compartments, so identify your route before you board your train, she says.

Use The Feeder Service From Stations
A therapist, S. Apoorva, travels from Ashok Nagar and has been using the recent feeder service It was introduced only last month) provided by CMRL. Commuters can now use share autos (INR 10) and cabs (INR 15) within a 3km radius. Share autos are currently operating from eight stations - Ashok Nagar, Alandur, Ekkattuthangal, Guindy, Koyambedu, and St. Thomas Mount, Little Mount/ Nandanam and Anna Nagar Tower. The cab service is operating from five stations - Koyambedu, Alandur, Anna Nagar East, AG-DMS, and Vadapalani. This service is available from 6.30am to 9.30pm, we are told.

Keep Your Offline Playlist Ready
Sharanya Gopinath, a singer, travels every day on the Metro from Kilpauk to Eekatuthangal and tells us to keep our travel music downloaded because the signal gets cut off during the underground railway segments. Despite claims about full connectivity on the CMRL website, the network can be quite dicey. So, be prepared!
How To Use Single Trip Tokens
Delfina, an activist who travels from Koyambedu to Airport, says that people often don't know their options. An individual token (valid for a single ride) gets misplaced easily and most people aren't aware that it needs to be tapped in the entrance and dropped off at the exit. So, keep that safe. Most ticket vending machines don't accept new notes (like INR 200 notes) as of now, so, carry change or the old notes.

Comments