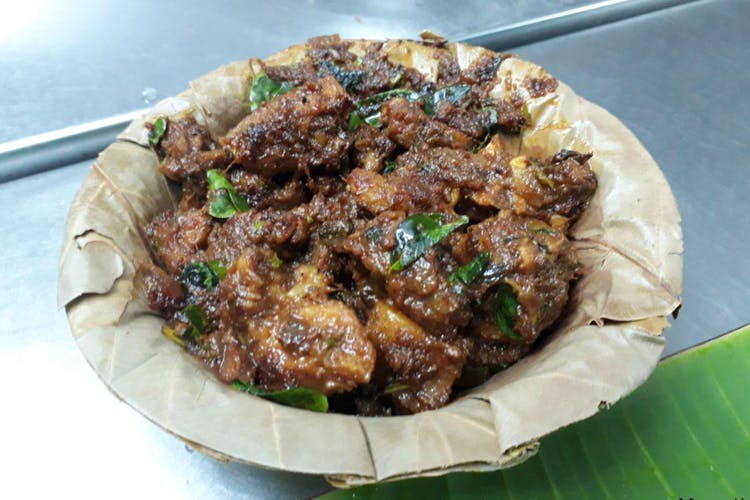 Biryani, Mutton Chukka & Prawn Fry: These Military Hotels In Chennai Are A Meat Lover's Den
With Chettinadu restaurant chains slowly starting to take over, the number of military hotels have started to dwindle in Chennai. During the Second World War, these hotels started opening all across the city to cater to the military troops and served largely home made non-vegetarian food. Although a slowly fading phenomenon, some of these military hotels are still going strong and need to be on your list to check out ASAP. From fragrant mutton biryani to prawn fry and spicy mutton chukka to even mutton dosa, you will be spoilt for choice at these military hotels. 
Vishwanathan Chettinadu, Mylapore
Vishwanathan serves some of the best Chettinadu seafood in Central Chennai. Situated in between Mylapore and Triplicane on PV Koil Street, this joint is very popular for its non vegetarian meals, fish fry and prawn gravy. The prawn gravy might be spicy and thick, but it is exceptionally tasty! The biryani when served is freshly cooked and delicious. Don't forget a glass of buttermilk to go with your food too! Very moderately priced, this military hotel is a favourite for those living in the Mylapore area. While the setting may not be ideal, the food and service more than makes up for it!
Must Try: Fish fry, prawn gravy, mutton chukka and meals.
Price: INR 200 for two
Thanjavur Military, Park Town
This joint in Park Town serves some of the best mutton biryani you will ever have! Traditional and authentic in taste, it is well cooked and the meat is super soft and tender. The prawn fry complements the biryani very well with its spicy masala and you can't walk into this place and not have the prawn fry. Piping hot, this would be a perfect meal for a lunch. If you want to experiment with something new, the mutton dosa is excellent. The meat that comes on the top fills the plate and is mouthwatering. Don't be put off by the ambience or the entrance of this place. The food will more than make up for it!
Must Try:  Mutton biryani, naatu kozhi fry, mutton dosa.
Price: INR 250 for two
Naidu Military, Thuraipakkam
Located in a narrow lane right next to the F1 Hotel on Old Mahabalipuram Road, parking for Naidu Military should be available nearby. The biriyani was good but it could have had more flavour. While the Chicken 65 wasn't anything special, the fish fry surprised us and was cooked really well. The specialty in this military hotel is the dhonnai biriyani, a very popular dish from Karnataka and it is served in a palm leaf bowl. You can order this with the vanjiram, which goes well with the biryani! The ambience is nothing too special and the prices are relatively higher than other military hotels.
Must Try: Dhonnai biryani, vanjiram
Price: INR 300 for two
Velu Military Hotel
Probably the best military hotel in the city, Velu Military Hotel is well-known and very popular amongst politicians and celebrities. Velu Ambalam started this hotel in 1955 on Eldams Road and today his grandson runs the joint. A well-known story about the hotel is how Velu, who lived nearby, had to get a whiff of the meen kuzhambu (fish gravy) when walking towards the restaurant and if he didn't, he would dump the gravy and start cooking the whole thing again. This perfectly sums up this hotel which never compromises on its taste. The naatu kozhi biryani and mutton chukka are very popular here. Unlike other military hotels, the ambience is relatively better and the service is excellent. Priced moderately, this one won't burn a hole in your pocket after a few trips here!
Must Try: Biryani, mutton chukka, prawn fry
Price: INR 250 for two
Anjappar
When it first opened in 1964, Anjappar was started as a military mess. Specialising specifically in crab and other seafood items, they are still well known for the same items along with their biryani. They have now opened a number of branches and moved well beyond Chennai but definitely become very commercial. As they cater to larger crowds in a number of places, the ambience is very neat and offers larger menus. Not considered a military hotel anymore, the Anjappar chain of restaurants are now considered a Chettinadu hotel and offer other cuisines such as Chinese and North Indian dishes.
Must Try: Chilli chicken, tandoori chicken, fish curry.
Price: INR 600 for two
Comments