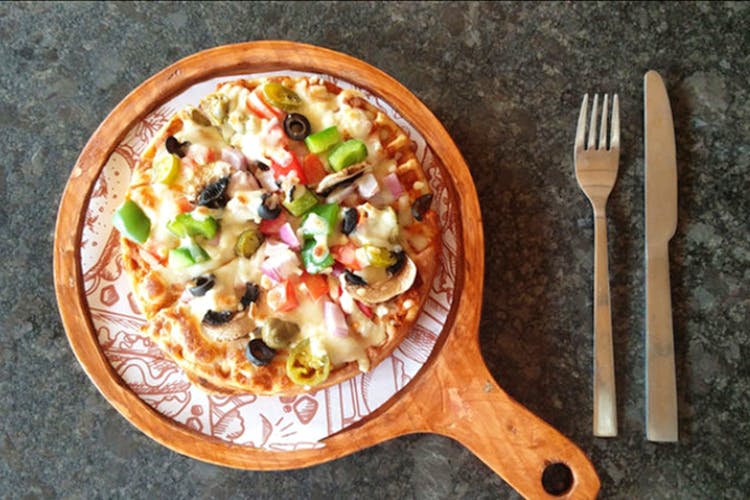 We Found Cheesy, Meaty Waffle Pizzas Right Here In Nungambakkam
Shortcut
From sausage waffle pizzas to oh-so-sweet double chocolate waffles, The Miner Diner's the place to go to, to get your waffle fix.
What Makes It Awesome
The Miner Diner (inspired by the California Gold Rush) is a mining-themed restaurant in Nungambakkam. Although we're not sure what mining and waffles have in common, we're not complaining if the waffles are as good as they sound. We're probably used to having our waffles for dessert (and breakfast, perhaps?), but savoury waffles seem to be the latest fad.
The Chilli Cheese & Lamb Pepperoni Waffles and The Kashmir Charcoal Waffle (chicken tikka, roasted garlic yogurt, and Kashmiri chilli) have got us drooling. But what caught our attention is Miner Diner's cheesy meaty waffle pizzas — Turkey Treat (cheddar cheese, olives, and turkey) or the Chilli Corn Carne (minced beef, jalapenos, peppers, and more cheese!). If you're vegetarian, dig into Aubergine Caponotta (a mix of olives, capers, aubergine with mozzarella and Cheddar cheese).
They also have other dishes on offer like curly fries (yum!), wasabi paneer sticks, sandwiches, grilled meats, and pasta bowls. But we'd probably end the meal with dessert waffles here. Because, why not? There's the classic of course with caramel and ice cream, Ebony & Ivory (dark and white chocolate loaded waffles) and the Rainbow's End (because we like all things colourful) with gems, candy, and chocolate curls. So go on, treat yourself to a waffle and thank us later.