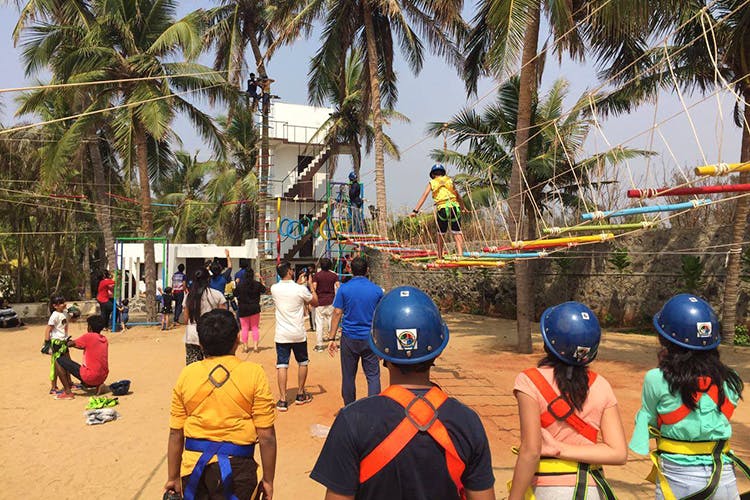 Head To This Beach-Side Thrill Zone With Your Squad For Zip Lining & Bungee Basketball
Shortcut
Think of the most fun you can have with your friends this weekend and that's exactly what Monkey Monk will provide, with activities for people of all ages!
What Makes It Awesome
This adventure zone is located along the ECR and is called Monkey Monk. And what it has in store for you will completely blow your mind. They've got everything from thrill seeking obstacle courses to fun games you can play with your friends and even exciting rope adventures you can go on. Try the Burma Bridge, which is made up of one thick rope for you to walk along and two ropes for you to hold while you walk and nothing else at all! Or how about the Flying Fox, which is basically a chance for you to go zip-lining, or if you're feeling really adventurous and gutsy, walk along the Swinging Valley Crossing. It's nicknamed the Earthquake Walk because the ground beneath you shakes and moves as you try to get across in one piece!
Thrill seeking not your style? Then settle in for some sports instead. They've got the usual cricket, football, volleyball and trampoline, but they also have Bungee Basketball which just takes the already exciting game of basketball to the next level. And then finally the obstacle courses like the Tyre Jump, Ladder Crossing and more!
Don't want to get sweaty and get tangled up in ropes like everyone else? Fear not they've got a "chill zone" that allows you to quite literally chill. They have a Butterfly Garden, where you can just sit back and watch the colourful butterflies flutter around or head to the Photo Corner and strengthen your selfie game or maybe even set up a tent and just laze with a book or some music and let everyone else run around doing crazy things.
They even have an outdoor party area that can be rented out for parties of all kinds. The space can accommodate up to 500 people and it's close to the beach so it's absolutely ideal for a weekend party.
Comments