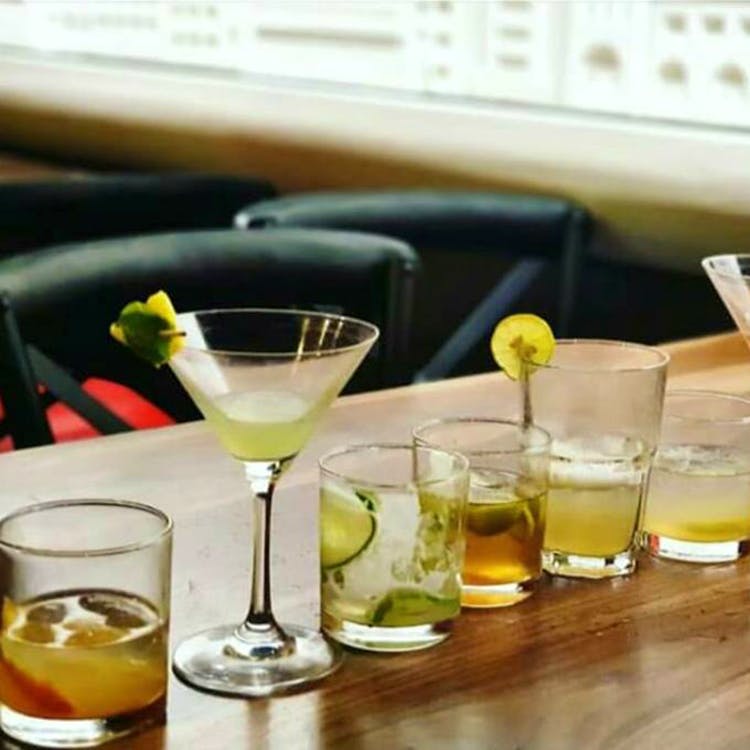 Get Trippy With The Monks, Food, And Alcohol At This Place!
Shortcut
Run away from the bustle of the city and enjoy some laid back comfort food and a few drinks at this newly opened pub in the city, Monk's Plate.

What Makes It Awesome
What do you do when you get bored of all the pubs and bars in the city? Find a new spot. And that's exactly what we did for you - Monk's Plate, on East Coast Road. (You can thank us later for it.)
This new property is owned by Abilash and Ajay, who are the brains behind the concept of the pub as well as the food. But what is the concept? Enter the pub and you get an earthy, rough and work-in-progress feel. The furniture is all black and red (which is themed after bright and darkness), you find trippy monks in different locations and quotes on the walls that can crack you up and get you thinking, at the same time. We particularly liked the sculpted wall where a monk is sitting right in the middle of chaos with his headphones on. Relatable much? We are also thanking our stars for this place is not too flashy or blingy.
The quirk and trippy emotion overflows to their menu. Browse through it and you'll know that they have kept it simple. Their starters include options like Peanut And Raw Mango Bowl, Cajun Chicken Fingers, Barbeque Fingers, Mushroom Stuffed With Cheese and Seafood Platter. However, we go for the chicken Toddy Shop Fry which was spicy, aromatic and took us right back to Alleppy. You also have beef and pork options for this one.

We highly recommend one of their signature dishes which is the Pesto Cottage Cheese Steak. Want something light, try their burgers or sandwiches which have a lot of seafood and beef options. For those who want to take the safe route, try their pasts and pizzas. Pesto Prawn, Pulled Pork, Twisted Pizza, Pepperoni and Margherita - are some of the dishes you can choose from. We headed the Pan Asian way and went with dimsums which disappeared from our plates in no time.

If you don't mind try something different, we recommend you to taste one of their baos. The crispy chicken filling paired with spicy sauces and veggies is a pure delight. It also goes well with beer (personal favourite). We were spoilt for choice with their rice and noodles section. But finally, we decided to go with Nasi Goreng which came with paneer skewers.

The monk's at this pub like everything different. We were startled to see the dessert section which only has three options. But the White Sticky Rice with Mango Ice Cream is enough to shut your mind up. Who needs more options when one can fill you up and leave you wanting for more. The warm sticky rice blended perfectly well with the ice cream and literally melted in our mouths. Peeps who have been to Indonesia will know what we are talking about.
Pro-Tip
They also have a basement which will have more pub munchies and thumping music along with a dance floor. They also plan to have outdoor seating and a rooftop soon.
Comments