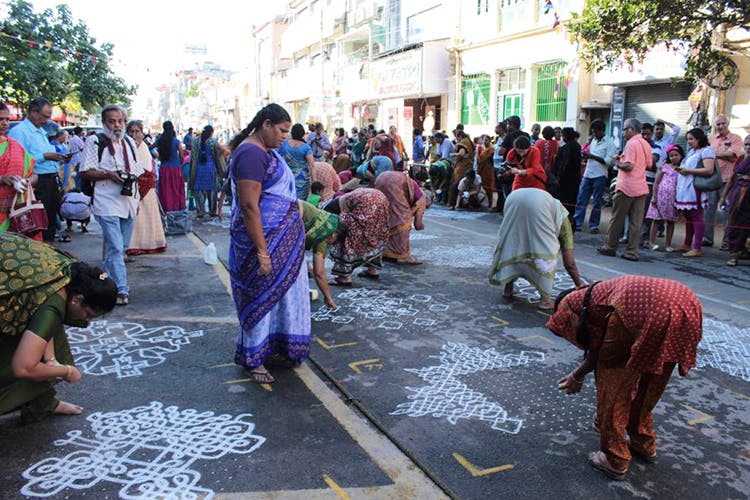 Temple Jewellery, Pickle Jars & Appalams: Discover Old Madras & Budget Shopping At Mylapore Tank
Shortcut
To truly feel and experience the old Madras (for shopping especially), Mylapore tank is the area to explore.
Jewellery And Silk Sarees
Used loosely to describe the streets surrounding the famous Kapaleeshwarar Temple, Mylapore tank is a little town in itself, and worth half a day's visit. Right outside the temple, as the fragrance of fresh, wet flowers engulfs you, walk into Rasi silks for a veritable treat – from kanjeevaram silks, reams of unstitched fabric and dance practice sarees to surprisingly well tailored men's shirts, dhotis, and some silver jewellery, there's enough to keep you occupied for a few hours.
Next, lug your shopping bags and yourself to Sukra Jewellery for a true visual treat; the store remains Chennaiites' favourite destination for affordable and well-made authentic temple jewellery (think traditional kemp and pearls) and silver items. If you'd rather buy imitation jewellery instead, fret not, for the area has several shops that sell costume jewellery at incredibly low prices. Especially well-frequented are its dance shops, which sell everything from fake flowers, garlands, jewellery, and costumes.
Bangles And Appalams
The small roadside shops sell all kinds of items — from ceramic jaadis (to pickle your vegetables in or use as decorative items) to plastic wares, woven baskets and innovative LED lamps in traditional vilakku designs to other bric-a-brac like bindis, jhumkas, slippers and excellent quality glass bangles in every colour you could possibly envision. Walk through the roads, allowing the aroma of freshly ground coffee (do visit Leo's) to wash over you and make your way to the renowned Ambika Appalam for its (no surprise) appalams which enjoys cult status.
Epic Finds
Mylapore Tank has truly stood the test of time. One of the true jewels in the tank's crown is Dabba Chetty Kadai on Kutchery street. Now having attained the status of a Madras legacy, the old shop is a one-stop destination for all traditional country medicine.
If devotion could be manufactured, it is at Giri traders. Located right at the foot of the temple, every pooja item possible including books and CDs relating to religion and worship are sold here, and even if you aren't buying anything, rest assured you'll have a fascinating time leafing through simplified epics and illustrated stories from the scriptures.
There's also Vijaya Books which is a famous store that sells school books and other books and stationery items.
Of Dances And Dosas
If you're in luck, and there's a concert or dance recital on at Bhartiya Vidya Bhavan, some art is perhaps the most fitting end to what can only be termed a cultural experience. And what cultural experience is complete without food? After the performance, duck into Mylai Karpagambal Mess – a quaint restaurant reminiscent of yore – for the most delicious keerai vadai and podi dosa you've ever had, and the mandatory tumbler of suda suda kapi.