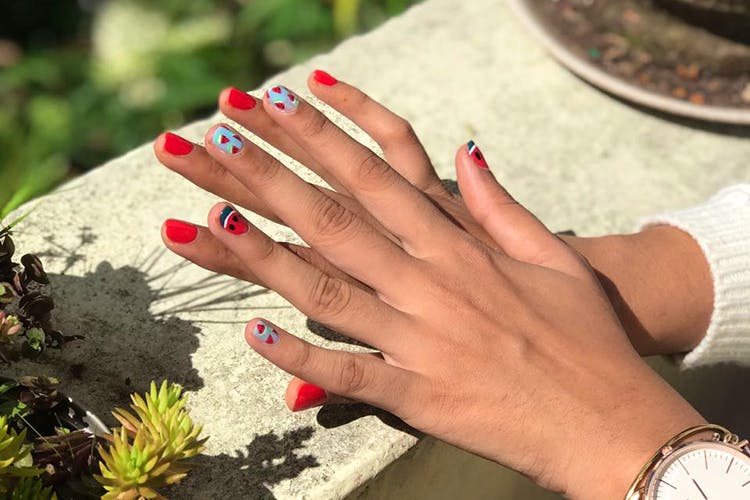 Nail Your Look With A Cute Mani-Pedi At This Salon
Shortcut
Nail Culturee is an exclusive nail salon in T-Nagar where you can get everything from nail extensions to cool 3D nail art.
What Makes It Awesoke
The small studio in T Nagar boasts of a range of fun nail colours to choose from and a host of cool nail art too. Get your nails done at individual desks behind their white-walled lounge and choose from varied services like the Gel Form Extensions, Glitter Extensions, Natural Overlays, and even Tip Extensions. When it comes to nail art you might just be spoilt for choice, for they have hundreds of design options and you could also pick your own design online and request them for the same!
We got started with the OPI Gel Nail Polish with Nail Art. After glancing through their designs that included pretty flowers to cheetah prints, glitter and even studded art for your talons, we chose a watermelon design and the results were quite impressive.
We got our nails done by Anushka who did a great job! Right before they get into the nail art, they clean, shape and buff them as well. It takes about one hour per hand.
We also chose the Gel Nail Extensions where we picked a pastel shade and chose glitter finish. These are said to last for a month and you can always come back to get some filling done in case one of your nail breaks. This is a bit expensive at INR 5,000, so drop by if you're in the mood to splurge. Remember, Nail extensions require 2-3 hours of your time.
Nail Culture also offers other services like pedicures, manicures with ingredients like Jasmine, Vanilla Lavender, and Violet Orchard. Go ahead and rejuvenate as they do cuticle detailing, massages and more to give your feet and hands new lease of life.
We hear they also have bridal packages, that include a good massage, nail extensions and gel nail polish and more from their long list of services for around INR 8,000.
Most days you could walk in and pamper yourselves, but we suggest you take a prior appointment to avoid the last minute rush.
Comments