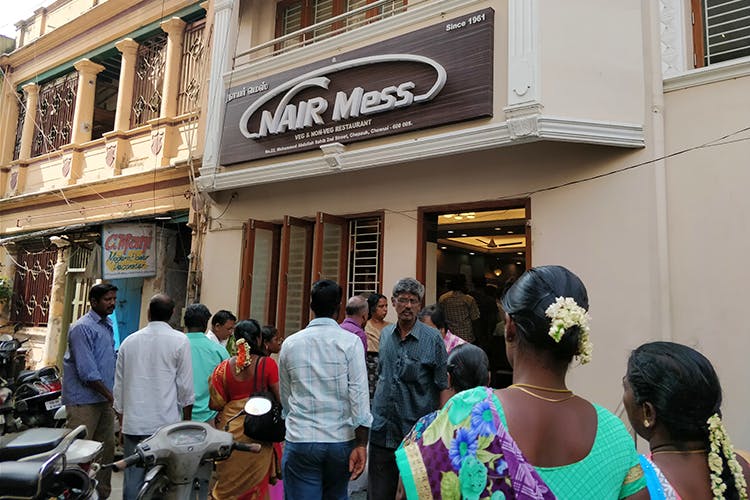 This Budget-Friendly Mess Is Legendary For Its Banana Leaf Meals & Fish Fry
Shortcut
Get South Indian (not necessarily Kerala food guys, don't get confused by the name) meaty meals and other delicacies at pocket friendly prices at Nair Mess near Chepauk Stadium.
What Makes It Awesome
We got here on a weekday afternoon and waded through a tiny lane of old buildings and parked bikes, to get to Nair Mess that's apparently been around since 1961 (you can get here by GPS).And man, at 2 pm it's already packed. It's not a run-down place, like most messes that have this old-world charm, but more like a restaurant with a number of small tables and chairs and quite well-light.
Every table was full with people scooping off heaps of rice off their banana leaves. We spotted some famous thinly sliced and fried pieces of Vanjaram (Seer) fish being served to some of the hungry diners and couldn't wait to try it. But oh, do note, especially if you're vegetarian the place does have a fishy smell lingering in the air.Unfortunately the place was so full we couldn't sit down for a meal, so we decided to pack up our meals. There's no menu as such here, you'll need to ask the waiters what they're serving. We wanted fish curry meals but it was unavailable so we settled for mutton curry meals instead.
Regular limited meals come up to INR 82, add creamy mutton curry to that for and extra INR 68 (fish would come up to the same price). The meals consisted of a lot of white rice, curries, buttermilk, potato poriyal and appalam. The mutton pieces were a bit less, quantity wise, but hey look at the price. Honestly, we didn't find anything extraordinary in what we tried, but we do hear that the fish fry and mutton chukka taste amazing. If you want something lighter you can even ask for fluffy omelettes! Maybe next time, then!
Comments